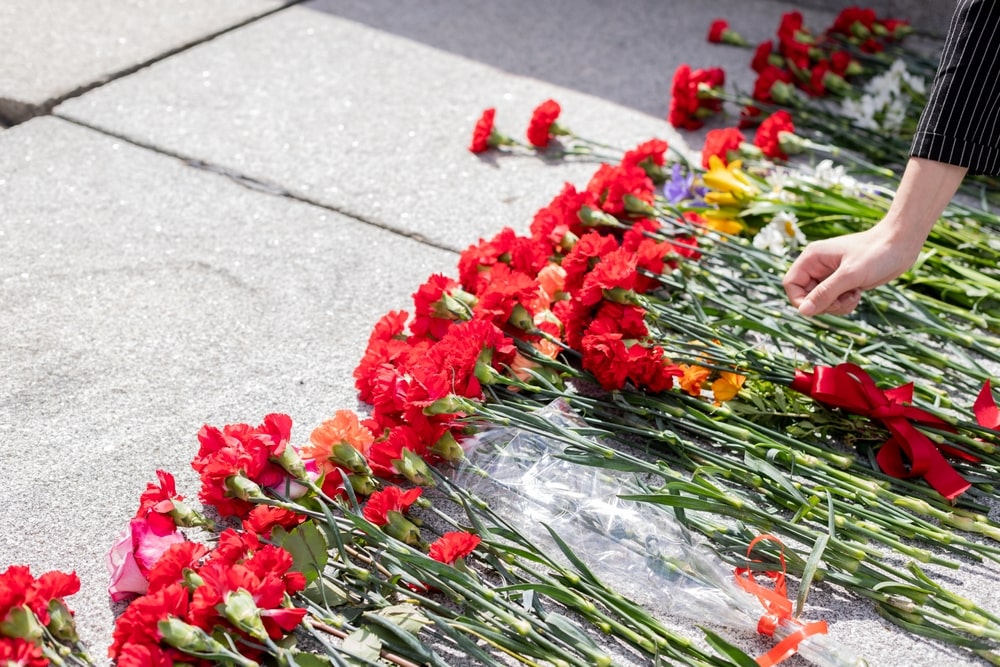 Senseless. Horrifying. Heartbreaking. No words can capture the disbelief and heartbreak we feel at learning about the mass shooting in Allen, Texas, at Allen Premium Outlets. At this time eight victims are confirmed dead, and several others are receiving treatment at a local hospital. After an event like this, less than a year after the tragic events in Uvalde at Robb Elementary School, we're all left stunned and grappling with questions.
Tragedies like the events unfolding in Allen encompass not only the grief and mourning of individual families but of entire communities. As we seek to mourn the victims and process the events, we should consider how to mourn together, as people, as communities.

Communally, how do we mourn such traumatic events?
Respected grief expert, Dr. Alan Wolfelt, has worked with families dealing with grief over the unexpected, traumatic death of a loved one. He says, "After someone you care about dies a sudden, violent death, you are forced to struggle with both the traumatic nature of the death and your grief over the loss. Naturally, traumatized mourners often find themselves replaying and reconsidering over and over the circumstances of the death. This is both normal and necessary. Such replay helps you begin to acknowledge the reality of the death and integrate it into your life. It's as if your mind needs to devote time and energy to comprehending the circumstances of the death before it can move on to grieving the fact that this person will no longer be part of your life."
As individuals, as communities, we struggle to comprehend these events. How and why would anyone do this? The survivors and the victims' families will likely replay the day in their minds over and over. They may even wonder if they could have done something different. They couldn't have. No one could have known what had been planned. So, now we ask, how do we move forward? We band together, support each other, and mourn as one.
What does it mean to mourn?
Grief is an internal feeling. It is the part of us that feels anguish over these events. Mourning is an outward expression of our internal grief, and it pushes us to externalize our grief, to take action to express that grief. Without externally expressing our grief, emotions can become internalized and remain inside us, unaddressed.
When an event touches an entire community, an entire nation, it is important to externalize our grief and mourn TOGETHER.

Community mourning – how do we do that?
Prayer Vigils
First, our churches and houses of worship can open their doors for prayer vigils. After the events at the Boston Marathon, places of worship all over the city opened their doors to the community. It was an act of communal mourning and a way to come together, grieve together, and heal together.
Candlelight Vigils
Similarly, individuals, businesses, churches, or schools can coordinate candlelight vigils and invite their communities to participate. In 2007, the Virginia Tech shooting horrified the nation. Then, and even now, ten years later, the community, the students, and the families came together to mourn and to remember those who lost their lives. The candle indicates the unity of those participating, their prayers and thoughts for the victims, and their desire to remember those who have been lost.

Memorials
Finally, communities mourn together through creating memorials. To mourn the victims of the Sandy Hook Elementary School shooting, people near and far came together, wrote prayer notes, paid their respects at memorials throughout town, mourning the tragic events together. These memorials help us feel connected to the victims. As a result, they give us a way to show that we care about them, that we mourn their loss.
Communal mourning events are important. We are all affected by this event in some measure, and we need to support each other, giving special support to the survivors and the families of the victims. A significant way that we, as friends, neighbors, and fellow Americans, can show our support is to come together to acknowledge and mourn this significant loss.

How can we take action?
Donate blood to your local blood bank.
Give funds toward the victims' funerals and assist the families financially.
Participate in moments of silence, prayer or candlelight vigils, or visit memorials to offer a token of our mourning.
Create an emergency plan for our families, in preparation for unexpected events.
It is imperative that we mourn as communities; that we support and pray for those most closely affected by this senseless act; and that we come together and deepen the ties of our communities. May God be with the families and friends of the victims of these tragedies.