With the death of Queen Elizabeth, multiple nations and millions of people plunged into mourning. While it was not unexpected due to her age, death still brings out a multitude of emotions. In many ways, the Queen's death brings with it a stark reminder of the importance of honoring life, paying tribute, and saying goodbye to the people who have impacted our lives.
From the moment of her death until her final commitment at St. George's Chapel, every aspect of Queen Elizabeth's funeral circled around the importance of ritual and healing actions.

3 Ways Queen Elizabeth's Funeral Brought Comfort and Healing
1. Through Rich Symbolism
Steeped in history and British tradition, each act of symbolism brought a certain amount of comfort and security. From the Imperial Crown resting on her coffin to the elaborate procession through the streets of London and the fact that the Royal Standard was never lowered, signaling that even with the Queen's absence, a monarch still reigned, each act was intentional and thought out. The moments when her children and later grandchildren stood vigil at her coffin were particularly compelling and beautiful.
For those living in the Commonwealth realms, this focus on traditional rituals and actions no doubt brought a sense of unity and rightness. The Queen's life should be honored in such a way for her incredible contribution to her people and the world.
2. Through Sweet Moments of Personalization
In addition to the historically rich symbols seen throughout, there were many instances of personalization. Though many of the funeral details focused on Elizabeth the Queen, some were specific to Elizabeth the woman.
The wreath that adorned her coffin while she rested at Balmoral Castle was arranged with flowers from Queen Elizabeth's own garden, including cuttings from her personal favorite blooms. In several key locations, regiments fired off 96-round salutes, one round for each year of the Queen's life. In a particularly sweet touch, both the Queen's corgis and her horse stood at attention, waiting as her coffin arrived at Windsor Castle. The Queen enjoyed riding throughout her life and famously adored corgis.
Each little touch of personalization added depth to the services honoring her life, making everything that much more meaningful.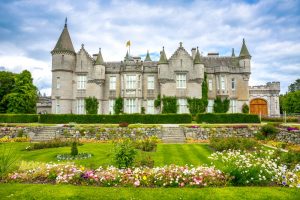 (Balmoral Castle in Scotland, where Queen Elizabeth spent her final days)
3. By Providing Opportunities for Public Memorialization & Gratitude
Lastly, the fact that the Royal family has allowed and encouraged public displays of affection and gratitude is both touching and necessary. As human beings, we need to take action when something or someone matters.
For government buildings or businesses, this meant displaying posters of Queen Elizabeth or flying the Union Jack at half-mast. For the general populace, people have found different ways to express their grief and their gratitude. From leaving flowers, Paddington bears, marmalade, hand-drawn portraits and notes, to creating a one-of-a-kind sand mural, people are finding unique and personal ways to say goodbye.
And it seems that the Queen knew just how important this opportunity for remembrance is to the healing process. Not only was Westminster Abbey open to allow the public to pay their respects, the Queen commissioned a custom hearse with the public in mind. With its large windows and extra lighting, the vehicle enhanced the opportunity to say goodbye by giving a full and clear view of her coffin.
People took advantage of every possible opportunity. Some dropped off notes and mementoes, some watched the funeral on television, and some stood in line for hours to get into the Abbey. The point is, people were able to pay their respects and say goodbye in a meaningful way.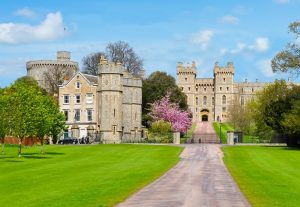 (Windsor Castle, a home dear to Queen Elizabeth and the location of her final resting place)
What Can We Learn from Queen Elizabeth's Example?
While the vast majority of us are not extremely rich or Royal, our lives are still worth honor and remembrance. Queen Elizabeth had a funeral fit for a queen because that's who she was. But who are you? What defines your life and makes you who you are? You can create a funeral that reflects your life and personality and provides your family and friends the opportunity to say goodbye in a personalized way.
Over time, the value of the funeral service has been minimized and overlooked, but it's so necessary. Queen Elizabeth's funeral brings that reality into sharper focus. Look at how many people came out in droves because they felt the need to participate, to heal, to feel that they had done right by the Queen. Your own family and friends feel the same about your life!
Dr. Alan Wolfelt, a nationally respected grief counselor and educator, has this to say about the funeral:
"Rich in history and rife with symbolism, the funeral ceremony helps us acknowledge the reality of the death, gives testimony to the life of the deceased, encourages the expression of grief…, provides support to mourners, allows for the embracing of faith and beliefs about life and death, and offers continuity and hope for the living."
So, here's the challenge: be like the Queen and be intentional about how your life is celebrated. What traditions characterize your family? Are there things you are passionate about? What makes you who you are? Use the answers to create a funeral service that truly reflects your life. This will allow the people who know and love you to celebrate you uniquely and personally.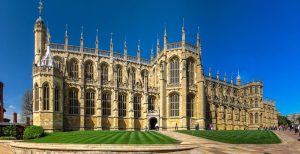 (St. George's Chapel at Windsor Castle, the location of Queen Elizabeth's interment)
Next Steps
If you decide to plan ahead for your funeral wishes, you might not know where to start. Here are some resources to help.
What is Advance Funeral Planning?
The 5 Basic Steps of Funeral Planning
Practical Ways to Personalize the 7 Elements of a Funeral