When considering final disposition, you have two main choices: burial or cremation. But what should you know when considering cremation? With this quick overview, you can get your questions answered and identify the options that most appeal to you.

 What is Cremation?
Cremation is a form of "final disposition," which simply refers to your preferences regarding what happens to the body after death. At present, people often choose between full-body burial or cremation, though there are other options (click here to learn more).
The cremation process exposes the body to extreme heat and flame, resulting in the reduction of the body to bone fragments. The fragments are then ground down into what is commonly referred to as "ashes."
Afterward, the cremated remains, which usually weigh somewhere between 3-7 pounds, are placed in a chosen urn or temporary container and returned to the family. From there, families have many options for memorialization, including scattering, urn burial, and placement in a columbarium.

Is Cremation Really Eco-Friendly?
Although cremation does reduce land use as compared to burial, the practice is not considered green by either the National Funeral Directors Association or the Green Burial Council. Flame-based cremation releases pollutants into the air, including mercury, particulate matter, and nitrogen oxide. Additionally, flame-based cremation also requires a significant amount of fuel, which results in carbon monoxide emissions every year.
On the other hand, water-based cremation (alkaline hydrolysis) is thought to be more environmentally friendly. Instead of using fire, this form of cremation uses water, agitation, and either potassium hydroxide or sodium hydroxide to reduce the body to bone fragments. Water-based cremation has a smaller carbon footprint, uses less fuel, and doesn't release emissions from the body. However, water cremation is not widely accessible yet, so it may not be available in your area.

Can I Have a Service with Cremation?
Absolutely! In fact, there are quite a few service options available when you select cremation. The final disposition you choose does not dictate whether or not your family has the opportunity to celebrate your loved one's life and say goodbye in a meaningful way.
To learn more about your service options, go to "Cremation and the Importance of Ceremony," where you will find a breakdown of your cremation service options. And if you'd like to do something entirely different, simply speak with your trusted funeral professional. Most funeral homes are willing to work with you to create the type of service your family wants.

What are My Permanent Placement Options with Cremation?
After cremation takes place, you will need to decide what to do with the ashes of a loved one. Again, you have quite a few options when you select cremation.
Burial/Inurnment of the Cremated Body
First, you can choose to place a loved one's cremated remains in a cemetery. You could place the urn in:
A columbarium niche
An existing adult burial space (next to a spouse)
A smaller plot designed for cremated remains
An urn garden
A mausoleum
Some families also choose to place a small portion of the cremated remains in cremation jewelry or other memorial items, such as cremation glass, cremation benches, or memorial rocks.

Retain the Urn at Home
Second, you could choose to place the ashes in a decorative urn and keep them in your home. Some families choose to split the cremated remains into portions that can be divided among family members and multiple keepsake urns, while others choose to contain the remains in one ceremonial urn.
One word of caution: Make sure that you indicate in your will what should be done with the cremated body when you die. After your own death, whoever handles your estate may not know about your loved one's urn and may dispose of it unknowingly. So, if you do keep a loved one's cremated body in your home, make sure that you communicate a plan for their care after you are gone.

Scattering
Third, you could choose scattering. Most often, ashes are scattered on private property, on public lands (like national parks), in a cemetery, or at sea. Make sure you check all laws and ordinances before you scatter. For example, many national parks require a permit, and scattering at sea must take place at least three nautical miles away from land. Your funeral director can help you figure out what laws are in place and help you apply for any necessary permits and registrations.
A Quick Note on Scattering
Scattering all the physical remains of a loved one in one unmarked location can be difficult. For some family members, it's important to have a place to go to feel close to a loved one. Before scattering, talk to your loved ones and see if it would be healing and appropriate to also create a permanent memorial.
You could set a plaque at the scattering site, place a memorial bench in a special location, or even reserve a portion of your loved one's ashes in a columbarium while you scatter the rest. There are a lot of options, so speak with your family to get their thoughts.

Can You Ship Cremated Remains?
Yes, you can mail cremated remains via the USPS, but there are certain regulations in place. Check out "5 Tips When Shipping Cremated Remains" to get an inside look at best practices when shipping a loved one's ashes.
Additionally, you can fly with cremated remains (domestically and internationally), but there are a few extra hoops to jump through. Make sure you speak with your specific airline about their requirements, but also give "What You Need to Know About Flying with Cremated Remains" a quick read. It will give you an understanding of how the process works.

With Cremation, Do I Receive the Same Support Services from Funeral Directors?
Yes, you certainly do. Funeral directors perform the same professional functions with cremation as with burial. They will help you create a personalized final tribute, coordinate all the behind-the-scenes details, communicate with the cemetery (if necessary), assist with legal documentation, and provide grief resources.
No matter what final disposition you choose, the funeral home staff will give you their best efforts and provide service that meets your needs. To learn more about how funeral directors can assist your family, take a moment to read "What Do Funeral Directors Do?"

What Does Cremation Cost?
Cremation does tend to cost less than burial, but the cost of either is ultimately in your hands. You can choose the services and merchandise you want and ensure that the total cost stays within your budget. If you prefer burial but feel like cremation better fits your budget, speak with the funeral director. They can review the options and discuss whether there might be a burial option that could work for your family.
For more detailed information about the cost of a funeral, including statistics from the National Funeral Directors Association, go to "What is the Average Cost of a Funeral?"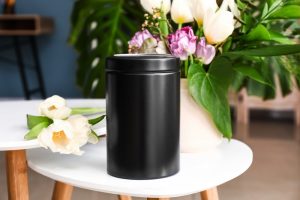 One Final Note
As you consider your options, keep the emotional needs of your family in mind. Choosing between burial and cremation isn't the only decision before you. If you are tempted to forego a funeral service to save money, first make sure that's what your family wants. It may seem like a fuss to put together a service. But more than likely, the family needs time to honor life, share memories, and remember the person who has died. Only when we face the pain of loss can we begin to heal from it, and the funeral service is the start of the journey.
If you've decided you prefer burial or would just like to understand all your options, check out "Burial FAQs: What Are Your Burial Options?"