According to the National Funeral Directors Association (NFDA), cremation has continued to grow as a choice for final disposition. In fact, in the 2017 Cremation and Burial Report, the NFDA found that approximately half of Americans chose cremation in 2016. However, in spite of the growth of cremation in the U.S., many people don't know about all the options available to them.
For example, families sometimes feel overwhelmed by the number of cremation urns they have to choose from. You can narrow down your options by considering what you want to do with the urn. Whether you are putting together a complete advance funeral plan or planning for the death of a loved one, consider how you want the cremated body to be memorialized. Want to plant a memorial tree or rose bush? Choose a biodegradable urn. Want to keep the urn at home? Choose a decorative memorial urn. Want to scatter the ashes at sea? Choose a scattering urn. Form follows function, so think about the function first, then choose the form.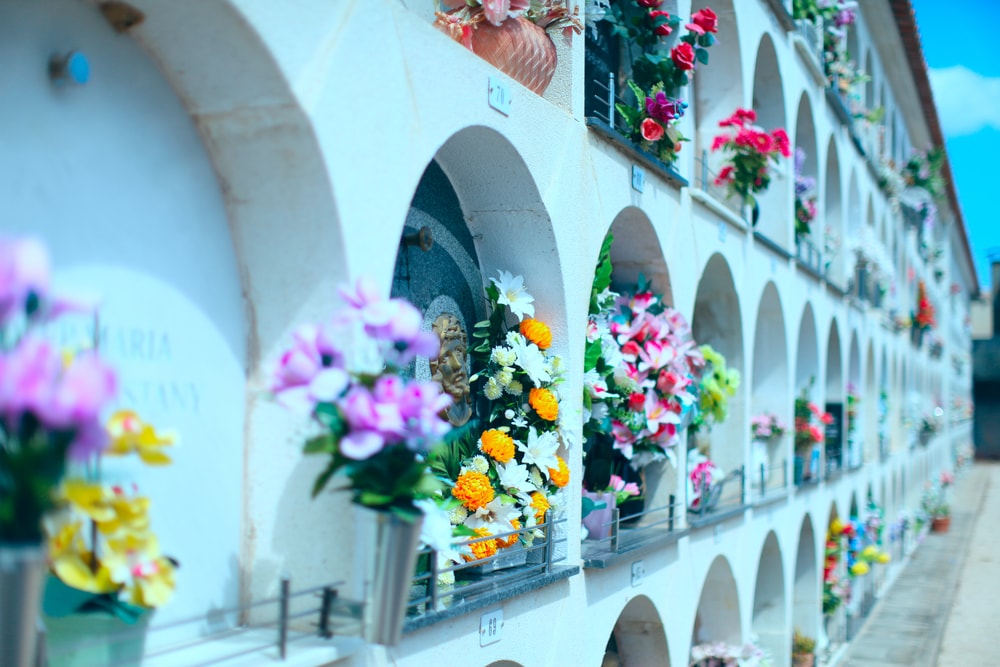 Another aspect to consider is setting up a long-term plan for permanent placement of the urn. While keeping the cremated body of a loved one at home is comforting to many, it's important to have a plan in mind for a final resting place. It's unrealistic to expect that, in 50 years, future generations will keep multiple urns of family members in their homes. Instead, make a plan – a personal and meaningful one – and execute it. In 10 years, you might scatter the ashes or bury the urn in an urn garden or place it in a columbarium. Ultimately, it doesn't matter which option you choose, simply that you have a long-term plan for the cremated remains of your loved one so that they will be cared for long after you are gone.
Materials
An urn is simply a container for the deceased's cremated body and can be made from almost any material. Urns can be made of:
• Plastic
• Cardboard (or other biodegradable material)
• Cast Resin
• Wood
• Ceramic
• Metal
• Marble
• Glass
• Clay
• And many other types of materials!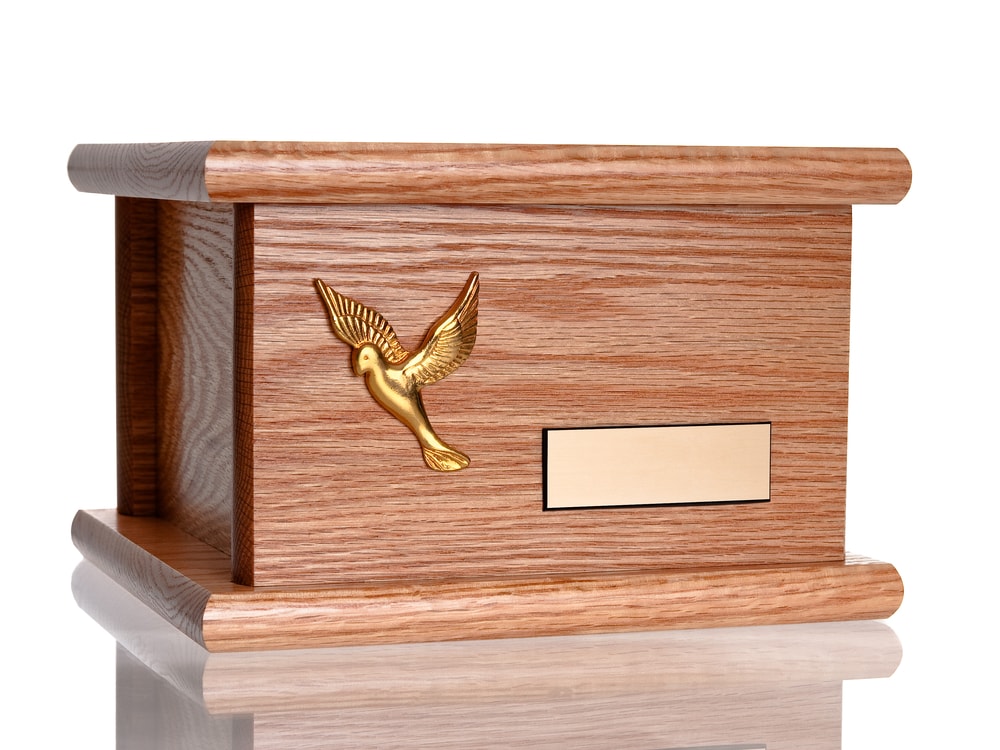 Types
Cremation urns come in all shapes and sizes, materials, and styles. You may want to talk with a funeral director, who has years of knowledge to impart, to help you make an informed decision. To get you started, here is a quick list of the different types of cremation urns available:
Keepsake Urn
Often small, a keepsake urn is used when either a small portion of the cremated body is kept and the rest scattered, or the ashes are split between more than one relative.
Decorative Urn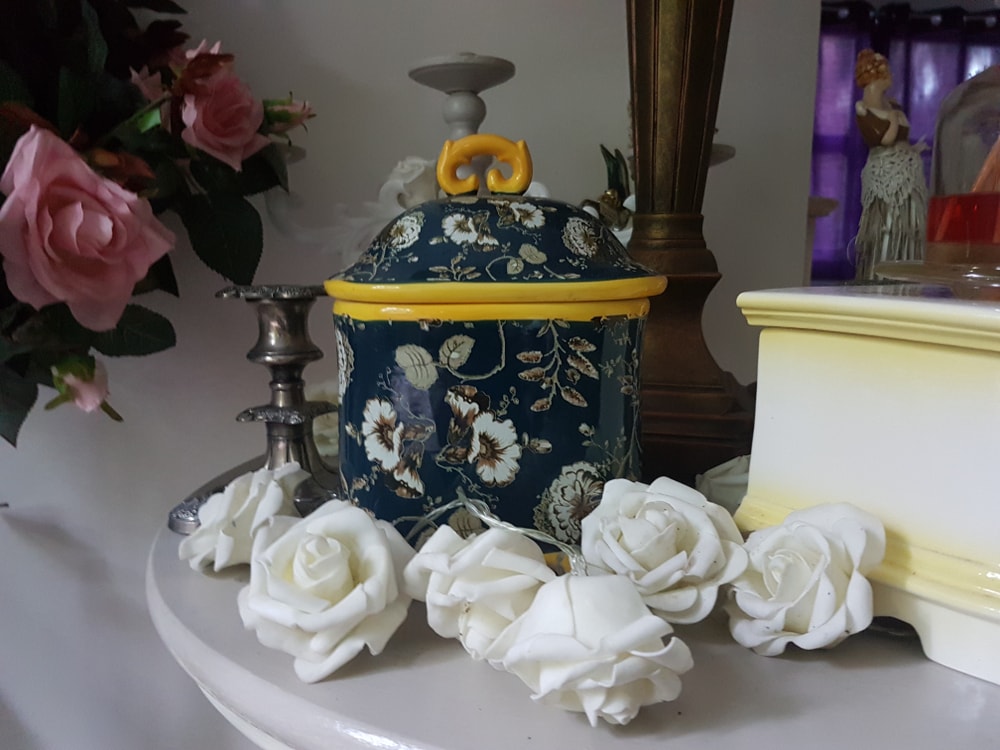 A family may choose a decorative urn to display at a memorial service, at home, or to use in a glass-front niche in a columbarium or to place in an urn garden.
Biodegradable Urn
An environmentally-friendly urn option, the biodegradable urn is becoming increasingly popular. This type of urn is commonly used for scattering, especially at sea. However, burial is also possible.
Religious Urn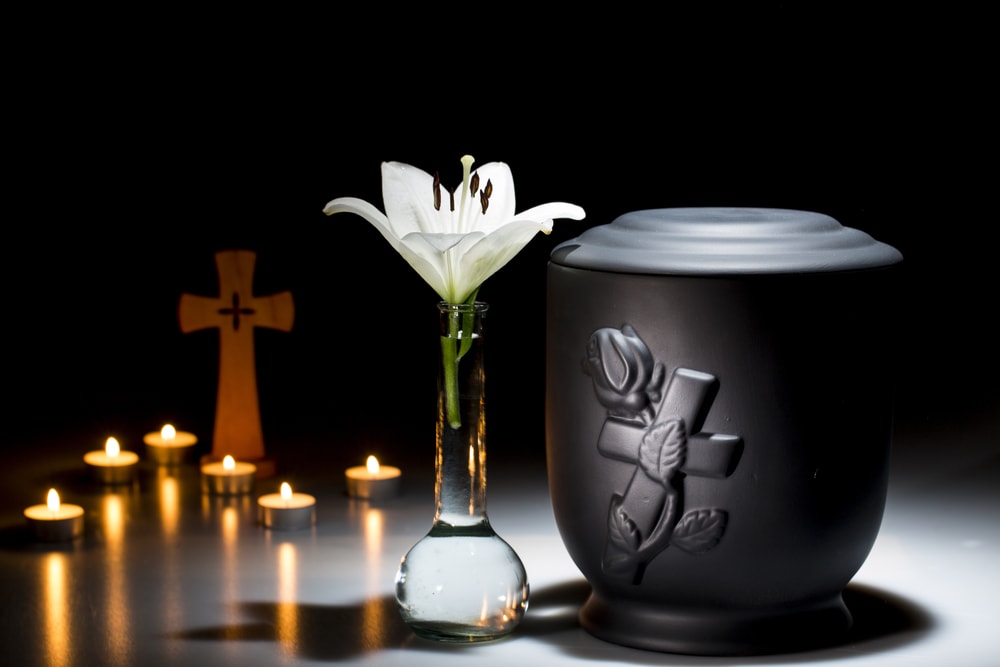 This type of urn showcases the spiritual beliefs of the one who has died. In most cases, the scenes or verses on the urn are associated with the person's religious background.
Companion Urn
The companion urn has two main types: a double or single compartment. Though not a requirement, it's more common for couples to choose a companion urn. In the double compartment urn, each person's ashes is separate but always together. With the single compartment urn, the ashes are intermingled.
Infant Urn
Usually smaller in size, an infant urn is most often used to hold the ashes of an infant or small child. In many cases, the family wants to keep the child close as they grieve, and the infant urn meets this need.
Sculpted Urn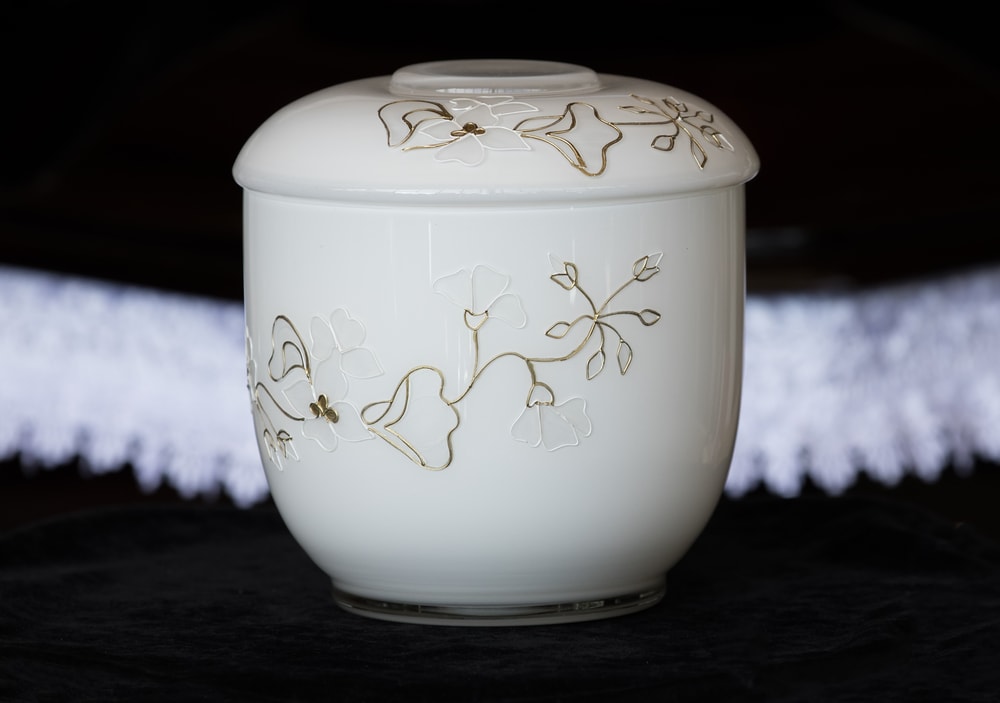 Sometimes called an "art urn," this type is a lovely mini-sculpture of your choice, modified to accommodate ashes. If you plan ahead, you can commission a special art urn that reflects your personal tastes.
Themed Urn
You can purchase a themed urn, and the possible variations are as limitless as your creativity. A few common types of themed urn are sport, hobby, art, and nature.
Picture Urn
Just like it sounds, this urn is shaped like a picture frame and allows you to display a favorite photograph of your loved one on the outside of the urn.
Military/Veteran Urn
If the military was a key part of a person's life, you might consider selecting a veteran urn. The urn itself is designed to commemorate and honor the patriotism and sacrifice of veterans.
SPECIAL NOTE: If you plan to travel somewhere via airplane with cremated remains, make sure that you have an appropriate urn. If airline security is unable to see through the urn on the X-ray machine, they may need to manually search the urn. To prevent this, make sure to purchase a felt or non-metallic material for the urn.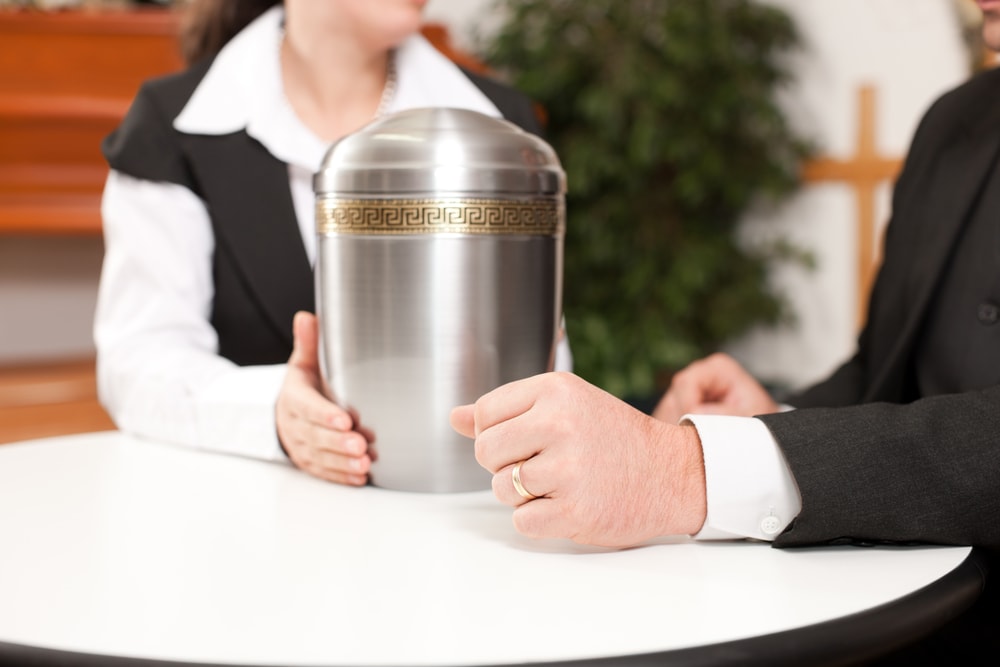 As you can see, choices for cremation urns abound. Before making a decision, you may wish to talk to your family members and speak with a funeral professional. You may get even more ideas after discussing the topic with a knowledgeable person.