You plan for everything in life — birthdays, anniversaries, weddings, vacations, homes, retirement, and much more. Why shouldn't you also plan for final wishes? While no one likes to think about their own death, the fact remains that someday your family will need to make dozens of hard decisions to arrange your final life tribute.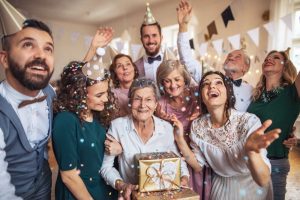 Your family will want to celebrate you in death just as they did in life. They will want to gather together, support one another, remember you, and honor your legacy. Even if you don't want a big fuss, the fact still remains: Someone will be responsible for making funeral plans for you. But why couldn't that person be you?
You may not know that you can plan a funeral, memorial, or cremation in advance. Planning ahead for funeral wishes does more than record your final wishes; it also alleviates the burdens that fall on loved ones at the time of loss. Think about it. After hearing that you have died, your family will be distraught, grief-stricken, and possibly numb with shock. It will be hard enough to make even a simple decision like what to wear to the funeral—much less to plan a service that they feel good about and that does justice to the life that you've lived. That's a lot of pressure!
Let's take some of that pressure off…
A well-thought-out celebration of life helps to remove a lot of the stress, anxiety, and doubt that often plagues newly bereaved families. If you have ever lost a loved one and planned their funeral, you know that planning ahead is an incredibly thoughtful gift of love!

Let's look at some of the main reasons people decide to plan ahead for their funeral
Funeral planning can save your family money.
When most people are called upon to plan a funeral, they do so for the first time in their lives. Because of this, they don't know very much about how to keep costs from ballooning and often end up with a pretty expensive funeral they have to put on a credit card or dip into savings to pay for. If your family knows your exact wishes, they can save money by avoiding unnecessary spending.
Funeral planning allows your family to spend more time together. 
At the time of loss, the last thing family members want to do is spend several hours at a funeral home making arrangements. If you outline your wishes for a final tribute, your family can instead spend that time together, offering comfort, support, and love to one another at a time when they need it most.

Funeral planning helps to avoid arguments. 
The loss and burial of a loved one is a very emotional time. If a family disagrees about which options to choose, emotions may run high. Even when a consensus is reached, family members may continue to feel anxiety, doubt, and regret about the decisions and how they were made. However, when family members know exactly what you want, they experience greater peace knowing they are honoring your final wishes.
Funeral planning brings peace of mind even before you die.
Have you ever completed a big project and just felt a weight lift off your shoulders? That's what it feels like when you finally take that step and plan ahead for your funeral wishes. Not only does it bring you peace of mind, but it can also comfort family members who know they won't have to face those difficult decisions on one of the worst days of their lives.
Keep in mind that a well-planned final tribute offers all of these benefits and more without the need to pay for services or merchandise ahead of time. While paying for the funeral in advance helps your family even more financially, it is not entirely necessary to reap the rewards of planning ahead. It is important to keep finances from getting in the way of planning ahead as much as you can. You can always consider your payment options later. For the time being, your best source for information on planning ahead is your local funeral home. Most funeral homes even offer complimentary funeral planning services to the community. Contact your local funeral home today to speak with a qualified, professional funeral planning expert.