Losing a loved one is an emotionally distressing experience. It can be doubly hard when you are grieving as a family. Why? Because every member will experience different emotions at different depths, like devastation, confusion, guilt, or regret. While navigating the road to healing as a family can be difficult, it's achievable.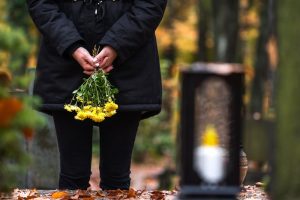 A funeral or memorial service of some kind is essential after a loss. Processing emotions is critical; for many, attending a funeral service kickstarts the healing process.
If there is no ceremony, mourners may feel something's missing. They may even feel that their grief is minimalized, unacknowledged, or unimportant. To understand why a healing and meaningful service is so valuable, let's talk about several needs a service fulfills.

Need #1: To gather and comfort one another
Having friends and family close when you're going through a tough time is comforting. Together, you can give and receive the love and support you need. Grief counselor Dr. Alan Wolfelt suggests that getting together with loved ones only at the funeral isn't enough. You will need each other in the weeks, months, and even years after the death. Because every person grieves differently, the mourning process can take a long time. Try staying in touch and gathering together regularly (online or in person) so everyone feels loved and supported.

Need #2: To honor the memory of the one who died
Planning a personalized ceremony allows you to highlight your loved one's personality, hobbies, or traditions. By doing so, you not only create a sweet moment of remembrance, but you also celebrate who they were in a meaningful way. Every person is extraordinary in their own way – after all, no two people are exactly alike – and it's important to remember an individual life for its uniqueness. For more information about personalizing a service, read Practical Ways to Personalize the 7 Elements of a Funeral.

Need #3: To search for meaning after the loss
Whether the service is secular or spiritual, mourners seek deeper meaning after losing a loved one. This search often manifests as an examination of faith or worldview. During times of grief, many people question or struggle with their values and beliefs. Though it may not feel like it, the struggle is a healthy tool to dig deeper into your feelings of grief. This digging assists you in the healing journey, ensuring you confront and address your pain.

Need #4: To say one final goodbye
While mourners may not find ultimate closure in a final goodbye, laying a loved one to rest is symbolic. It provides a natural transition: your life before and after the death of someone loved. This final goodbye can take many forms – from a graveside service to scattering ashes at a favorite location or planting a memorial tree. You can decide as a family how you want to say your final goodbyes.

Healing continues after the service is complete
After the funeral, grief doesn't end. The healing journey begins. The absence of a loved one brings out deep emotions, especially during the first holidays, anniversaries, and birthdays after a loss. But thankfully, death doesn't mean you lose your love for the person who has died or their impact on your life. Instead, your relationship changes – from one of presence to one of memory.
To facilitate this healthy change, look for ways to honor their memory. You can place pictures, valued keepsakes, or heirlooms around the house. You might also consider keeping a grief journal, exploring your creativity, and even writing a letter to the deceased. To heal, you don't need to forget – that's impossible – but you do need to truly mourn.
Writing, talking, and other creative endeavors are vital to healing. These actions allow you to explore your feelings of hurt, resentment, sorrow, and frustration in a healthy way. Too often, people keep their emotions bottled up or dismiss them. While avoiding your feelings may dull the pain, it won't help you heal. There will be difficult days as you and your family heal after a loss, but you must be willing to face what you feel and come to terms with it. Then, you can move forward with renewed hope, your loved one's memory close to your heart.