As you plan a healing and meaningful funeral for a loved one, it's essential that you find ways to make it personal. According to Dr. Alan Wolfelt, nationally recognized grief counselor and best-selling author, there are 7 elements to include in a perfectly balanced funeral ceremony: music, readings, visitation/reception, eulogy, symbols, gathering, and actions. Today, we are going to focus on literary readings and how they can enhance and personalize a funeral or memorial service.
Funeral readings come in a variety of forms, lengths, and formats. Some are religious; others are not. The ultimate goals of funeral readings are to pay tribute to the deceased, encourage reflection, and provide comfort and hope to the grieving. While many readings are religious, they don't have to be. There is a LOT of freedom to choose what feels right and best for your loved one's services.
Let's look at 10 literary readings that are perfect for any type of service.

1. "She is Gone" by David Harkins
Written by English poet David Harkins in 1982, this short poem focuses on the gratitude we feel for those we love. Their presence, their legacy, their very lives – we will never be the same because they lived. Also, with a small alternation to "he", you can use the poem for a male or female loved one.
You can shed tears that she is gone
Or you can smile because she has lived
You can close your eyes and pray that she will come back
Or you can open your eyes and see all that she has left
Your heart can be empty because you can't see her
Or you can be full of the love that you shared
You can turn your back on tomorrow and live yesterday
Or you can be happy for tomorrow because of yesterday
You can remember her and only that she is gone
Or you can cherish her memory and let it live on
You can cry and close your mind, be empty and turn your back
Or you can do what she would want: smile, open your eyes, love and go on.

While it was written by an English priest, the words are not overtly religious. Instead, Scott-Holland focuses on the universal human experience: the knowledge that a loved one may be gone, but in some nearly incomprehensible way, their spirit still lives on in us. We don't need to forget who they were; they never really leave.
Death is nothing at all.
It does not count.
I have only slipped away into the next room.
Nothing has happened.
Everything remains exactly as it was.
I am I, and you are you,
and the old life that we lived so fondly together is untouched, unchanged.
Whatever we were to each other, that we are still.
Call me by the old familiar name.
Speak of me in the easy way which you always used.
Put no difference into your tone.
Wear no forced air of solemnity or sorrow.
Laugh as we always laughed at the little jokes that we enjoyed together.
Play, smile, think of me, pray for me.
Let my name be ever the household word that it always was.
Let it be spoken without an effort, without the ghost of a shadow upon it.
Life means all that it ever meant.
It is the same as it ever was.
There is absolute and unbroken continuity.
What is this death but a negligible accident?
Why should I be out of mind because I am out of sight?
I am but waiting for you, for an interval,
somewhere very near,
just round the corner.
All is well.
Nothing is hurt; nothing is lost.
One brief moment and all will be as it was before.
How we shall laugh at the trouble of parting when we meet again!

3. "Instructions" by Arnold Crompton
In its simple turn of phrase, "Instructions" conveys the reality that grief is a part of everyday life. The loss of a loved one becomes a part of our life story. Even as we talk, eat, climb mountains, wrestle with new ideas, and do the things of life, our loved one's memory is right there with us through it all.
When I have moved beyond you in the adventure of life,
Gather in some pleasant place and there remember me
With spoken words, old and new.
Let a tear if you will, but let a smile come quickly
For I have loved the laughter of life.
Do not linger too long with your solemnities.
Go eat and talk, and when you can;
Follow a woodland trail, climb a high mountain,
Walk along the wild seashore,
Chew the thoughts of some book
Which challenges your soul.
Use your hands some bright day
To make a thing of beauty
Or to lift someone's heavy load.
Though you mention not my name,
Though no thought of me crosses your mind,
I shall be with you,
For these have been the realities of my life for me.
And when you face some crisis with anguish.
When you walk alone with courage,
When you choose your path of right,
I shall be very close to you.
I have followed the valleys,
I have climbed the heights of life.

Using beautiful metaphor, the author softens the concept of death. The ship, representing the deceased, is stalwart, beautiful, and strong. And rather than leaving entirely, the person is welcomed to a new place by those excited to see her. Filled with hope, this reading offers comfort to those who are grieving.
I am standing upon the seashore. A ship, at my side,
spreads her white sails to the moving breeze and starts
for the blue ocean. She is an object of beauty and strength.
I stand and watch her until, at length, she hangs like a speck
of white cloud just where the sea and sky come to mingle with each other.
Then, someone at my side says, "There, she is gone."
Gone where?
Gone from my sight. That is all. She is just as large in mast,
hull and spar as she was when she left my side.
And, she is just as able to bear her load of living freight to her destined port.
Her diminished size is in me — not in her.
And, just at the moment when someone says, "There, she is gone,"
there are other eyes watching her coming, and other voices
ready to take up the glad shout, "Here she comes!"
And that is dying…

5. "Not How Did He Die, but How Did He Live?" by Merrit Malloy
In just a few words, this poem by Merrit Malloy hits on the true purpose of a funeral service. It is not to dwell on gain or fame, but to celebrate the true measure of a person. Did they do the things that matter? Did they make a positive difference, even to just one person? Though the words are short and sweet, they make you consider your own choices and how you want to live your life.
Not, how did he die, but how did he live?
Not, what did he gain, but what did he give?
These are the units to measure the worth
Of a man as a man, regardless of his birth.
Nor what was his church, nor what was his creed?
But had he befriended those really in need?
Was he ever ready, with words of good cheer,
To bring back a smile, to banish a tear?
Not what did the sketch in the newspaper say,
But how many were sorry when he passed away?
6. Irish Blessing
This well-known blessing is used for a variety of occasions because of its versatility. At a funeral, it can speak comfort to the mourner's heart, sweetly offering hope for the future even as we wait to meet a lost loved one once more. Its uplifting tone invites people to wish each other well on the journey of life.
May the roads rise up to meet you,
May the wind be always at your back,
May the sun shine warm upon your face,
May the rains fall soft upon fields
And until we meet again
May God hold you in the palm of his hand.

7. "Let Me Go" by Christina Rossetti
With timeless prose, Christina Rosetti highlights a path we must all take: losing those we love, and even so, learning how to live again. With its compassionate tone, the words encourage mourners to grieve but to also remember. In the remembrance, there is hope, there is joy, and there is healing.
When I come to the end of the road
And the sun has set for me
I want no rites in a gloom filled room
Why cry for a soul set free?
Miss me a little, but not for long
And not with your head bowed low
Remember the love that once we shared
Miss me, but let me go.
For this is a journey we all must take
And each must go alone.
It's all part of the master plan
A step on the road to home.
When you are lonely and sick at heart
Go to the friends we know.
Laugh at all the things we used to do
Miss me, but let me go.
A rather unconventional addition to the list, Fahrenheit 451 is a dystopian novel published in 1953 by American author Ray Bradbury. Though the book has a rather contentious history, the message in this passage rings true. The value and importance of legacy cannot be overstated, and at a funeral, it's right and good to celebrate lives touched and changed by a loved one's presence.
Everyone must leave something behind when he dies, my grandfather said. A child or a book or a painting or a house or a wall built or a pair of shoes made. Or a garden planted. Something your hand touched some way so your soul has somewhere to go when you die, and when people look at that tree or that flower you planted, you're there. It doesn't matter what you do, he said, so as long as you change something from the way it was before you touched it into something that's like you after you take your hands away.

9. "Roads Go Ever On" by J.R.R. Tolkien (excerpt from Lord of the Rings)
For decades, the Lord of the Rings has been a beloved classic for generations of readers. Nestled amidst its pages, this poem uses nature and soothing imagery to illustrate the journey of life. There are many ups and downs, and in the end, we must all face death. But death is just another stop; it is not the end.  Acknowledging the immortality of the soul brings comfort that a loved one is never truly gone.
Roads go ever ever on,
Over rock and under tree,
By caves where never sun has shone,
By streams that never find the sea;
Over snow by winter sown,
And through the merry flowers of June,
Over grass and over stone,
And under mountains in the moon.
Roads go ever ever on,
Under cloud and under star.
Yet feet that wandering have gone
Turn at last to home afar.
Eyes that fire and sword have seen,
And horror in the halls of stone
Look at last on meadows green,
And trees and hills they long have known.
The Road goes ever on and on
Down from the door where it began.
Now far ahead the Road has gone,
And I must follow, if I can,
Pursuing it with eager feet,
Until it joins some larger way,
Where many paths and errands meet.
The Road goes ever on and on
Down from the door where it began.
Now far ahead the Road has gone,
And I must follow, if I can,
Pursuing it with weary feet,
Until it joins some larger way,
Where many paths and errands meet.
And whither then? I cannot say.
The Road goes ever on and on
Out from the door where it began.
Now far ahead the Road has gone.
Let others follow, if they can!
Let them a journey new begin.
But I at last with weary feet
Will turn towards the lighted inn,
My evening-rest and sleep to meet.
Still 'round the corner there may wait
A new road or secret gate;
And though I oft have passed them by,
A day will come at last when I
Shall take the hidden paths that run
West of the Moon, East of the Sun.

10. "The Dash" by Linda Ellis
One of the most natural responses to death is to re-evaluate your own life. "Should I do more?" "I haven't pursued that dream, but I'm going to do it." And according to Dr. Wolfelt, one of the purposes of a funeral is to search for meaning. With poignancy and simplicity, this reading invites you to search for the meaning of your life and to change what needs changing to make the most of your "dash."
I read of a man who stood to speak
at the funeral of a friend
He referred to the dates on the tombstone
from the beginning…to the end.

He noted that first came the date of birth
and spoke the following date with tears,
but he said what mattered most of all
was the dash between those years.

For that dash represents all the time
that they spent alive on earth.
And now only those who loved them
know what that little line is worth.

For it matters not, how much we own —
the cars…the house…the cash.
What matters is how we live and love
and how we spend our dash.

So, think about this long and hard.
Are there things you'd like to change?
For you never know how much time is left
that can still be rearranged.

If we could just slow down enough
to consider what's true and real,
and always try to understand
the way other people feel.

And be less quick to anger
and show appreciation more,
and love the people in our lives
like we've never loved before.

If we treat each other with respect
and more often wear a smile,
remembering this special dash
might only last a little while.

So, when your eulogy is being read
with your life's actions to rehash,
would you be proud of the things they say
about how you spent YOUR dash?
These literary readings are, of course, just the beginning of the possibilities. There are many other literary readings you might consider including at a personalized funeral or memorial service. If there are specific books, poems, or even lyrics, that were meaningful to your loved one, include those.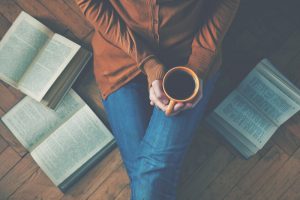 For more ideas on readings you could include, read:
How do Readings Enhance the Funeral Experience?
Top 15 Bible Verses for a Celebration of Life Service
Top 10 Poems for a Funeral Ceremony
Also, if you want to remove the burden of funeral planning from your loved ones by choosing all the details in advance, check out these resources:
What is Advance Funeral Planning?
What to Expect at a Preplanning Appointment
10 Reasons to Plan Ahead
How to Get Started With Funeral Preplanning