After a loved one dies, it's normal to fear losing your connection to them. That's one reason why cemeteries are an excellent place to connect with lost loved ones, to remember the past, and to learn from what has gone before. Professor of Anthropology Richard Veit says that cemeteries are "worth visiting and they're worth studying. If we take the time to listen to what the stories might tell us, we have a lot to learn." So, today, let's look at 10 of America's oldest cemeteries and burial places and see what stories they tell and what we can learn about our history and ourselves.  
1. Ernest Witte Site (2700 BCE)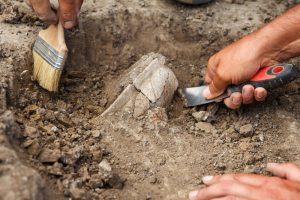 Believe it or not, one of the oldest burial sites discovered in the United States is in Austin County, Texas, not far from Houston. In the 1930s, youngster Ernest Witte and his brother dug a hole looking for buried treasure. However, instead of gold and silver, they uncovered human remains.
It wasn't until 1974 that Witte shared this discovery with archeologists at the University of Texas. At that time, researchers investigated the area and discovered the skeletal remains of 238 people. They determined that prehistoric burials had taken place in the area over a period of 4,000 years (from 2700 BCE to 1500 CE)! While no grave markers exist in this cemetery, it's definitely considered the oldest discovered burial ground in the United States. (Learn more here!)
2. Grave Creek Mound (250 BCE)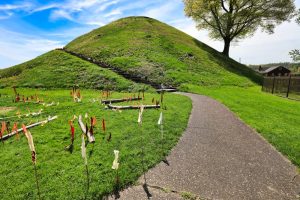 Another ancient burial site in the United States rests at the northwestern border of West Virginia, near Moundsville. It is called Grave Creek Mound, and archeologists believe it dates back to the Adena culture in 250 BCE. One of the funeral customs of the group was to bury their dead in raised mounds.
The mound is both physically and scientifically stunning because it required ancient members of the group to move nearly 57,000 tons of soil to create the hill. There are smaller mounds nearby, which contained trinkets, jewelry, and other religious items, no doubt part of the funeral ritual. Sadly, looters raided the mounds over the years, and much of the history is lost to time. You can still visit Grave Creek Mound today, which has been registered with the National Register of Historic Places.
3. Cahokia Mounds (800 CE)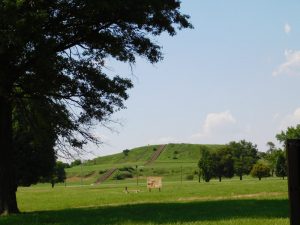 To round out ancient burial sites you can visit, we can't forget the Cahokia Mounds State Historic Site. Found northeast of St. Louis, Cahokia was once the largest indigenous settlement in what we now call the United States. At its peak (circa 600 – 1350 CE), it is estimated that more than 15,000 people lived there.
In addition to neighborhoods and marketplaces, the settlement also boasted a series of notable mounds. These mounds had many purposes, one of which was burial of the dead. Archeologists began working at the site in the 1960s and have preserved the remains of 270 people. The area is now registered as a National Historic Site and is protected and preserved for future generations. (More info here!)
4. Jamestown Original Burying Ground (1619)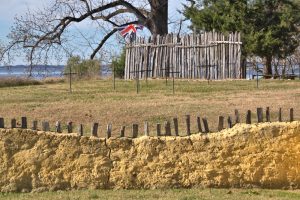 Now, we're going to jump forward quite a few centuries until we get to Jamestown, Virginia, in 1607. When 104 English colonists arrived in April 1607, they encountered many challenges, and according to Captain John Smith, 50 of them died by September.
At the time, the colonists were buried inside James Fort to avoid attracting the attention of the local Native American tribes. Eventually, the bodies were moved to the Jamestown Original Burying Ground, which was established in 1619. Today, you can visit the historic site of Jamestown, and archeologists are still at work excavating the original 1607 burial ground.
5. King's Chapel Burying Ground (1630)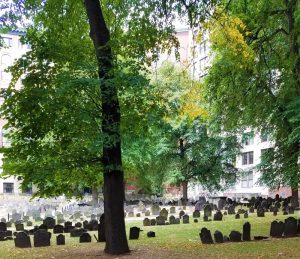 Following the settlement at Jamestown, more European colonists came to the shores of the New World. Because of that, more cemeteries began to appear on public registries. In Boston, Massachusetts, King's Chapel Burying Ground was created in 1630. It is Boston's oldest cemetery and was established by Isaac Johnson, who originally owned the land.
In 1688, an Anglican Church was constructed near the cemetery and became known as King's Chapel. Several notable residents of the cemetery are John Winthrop, Massachusetts's first governor; Hezekiah Usher, the colony's first printer and publisher; and Mary Chilton, who is believed to be the first woman to disembark the Mayflower. If you walk the Freedom Trail in Boston, you will stop by King's Chapel Burying Ground on your trek.
6. Charter Street Cemetery (1637)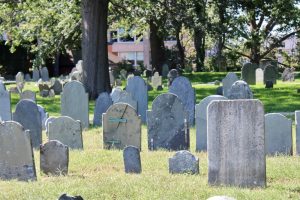 Originally a private cemetery owned by the Wade family, Charter Street Cemetery was established in 1637 in Salem, Massachusetts. The earliest gravestones date to 1683, and there are roughly 485 marked graves. The cemetery became public in 1717 and is known for some famous (and infamous) residents.
The Salem Witch Trials occurred in the city between 1692-93, and while none of its victims are buried in the cemetery, some other people involved in the trials are. (You can find a list of notable graves here.) For those interested in this contentious period of Salem's history, a stop at the cemetery is a must.
7. Standish Burial Grounds (1638)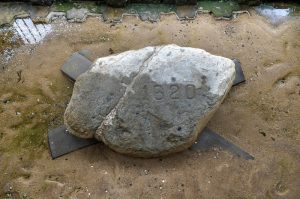 While the Plymouth Colony was established before Boston, its oldest cemetery dates to 1638 (versus Boston's 1630). Named for military leader Myles Standish, the cemetery is located in current day Duxbury. Used for more than a century, the cemetery includes the final resting place of many original Mayflower pilgrims, like Myles Standish himself.
Abandoned in 1789, the cemetery was reclaimed by the Duxbury Rural Society in 1887. Since then, the grounds have been well-maintained and named a National Historic Site. There are approximately 130 gravestones, the oldest belonging to Captain Jonathan Alden. If you are at all interested in America's early history, this cemetery is a great addition to your itinerary.
8. African Burial Ground (1630s)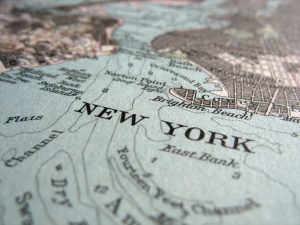 Though there's no confirmed date of establishment for New York City's African Burial Ground, we do know that it began sometime in the 1630s. Up until 1795, the grounds became the final resting place for both enslaved and free Black people. Unfortunately, the site was then forgotten until 1991. At that time, it was uncovered during the construction of an office tower.
Now a protected place, it's estimated that more than 15,000 people are buried at the African Burial Ground, making it America's earliest known and largest rediscovered African burial ground. Today, guests can visit an outdoor memorial, interpretive center, and research library commemorated to honoring the contributions of enslaved Africans to colonial New York.
9. Old Gravesend Cemetery (1643)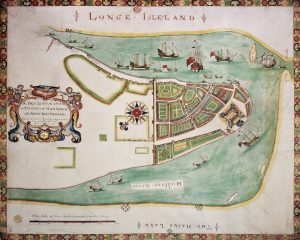 Nestled in the New York city borough of Brooklyn, Old Gravesend Cemetery dates back to 1643 and New York's early Dutch settlers. At its establishment, New York was known as New Amsterdam, and Gravesend was a small settlement nearby.
First mentioned in a last will and testament from 1658, Old Gravesend Cemetery was likely established not long after Gravesend's settlement in 1643. The cemetery contains 379 stones, and a restoration project is currently underway. Historians are particularly interested in finding the grave site of Lady Deborah Moody because she founded Gravesend and was the first woman to establish a settlement in the region. So far, her final resting place remains a mystery.
10. Granary Burying Ground (1660)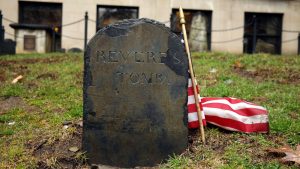 Lastly, let's go back to Boston for the final entry of oldest cemeteries! In the middle of the hustle and bustle of the city you will find a place of stillness and calm: the Granary Burying Ground. Between 1660 and 1880, roughly 5,000 people were interred in the cemetery. However, only about 2,300 grave markers still remain today.
For any visitor to Boston, the Granary Burying Ground is a worthy inclusion, as it is the final resting place of many notable figures. These figures include Samuel Adams, John Hancock, Paul Revere, as well as Crispus Attucks and the other victims of the 1770 Boston Massacre.
Before we go, here are a few other cemeteries worth an honorable mention:
Are there any other locations that should have made this oldest cemeteries list? If so, please know that their exclusion was unintentional.