There are countless ways to honor a loved one's life and memory. It's just a matter of finding the options that are 1) meaningful to the family and 2) beautifully reflect the deceased's life and interests. For outdoor enthusiasts, honoring a loved one's life at a U.S. National Park may be just the right decision. But can you scatter ashes at National Parks? You can! But there are certain rules and regulations to follow. Let's review some key information you will need as you plan a scattering ceremony at a National Park!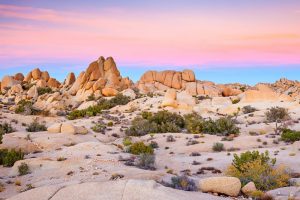 (Photo: Joshua Tree National Park, California)
How Many U.S. National Parks are There?
At present, there are 63 sites that are commonly referred to as "National Parks." They include places like Yosemite National Park, Yellowstone National Park, Glacier National Park, and so on. These are types of parks we will focus on today.
However, the National Park System encompasses more than 425 sites, spanning over 84 million acres. In addition to the 63 National Parks, they also manage national battlefields, national military parks, national historic sites, national monuments, national forests, and national reserves, to name a few.
Can I Scatter Ashes at Any U.S. National Park?
In most cases, yes, you can! There are no federal laws that govern burial and cremation – it's left up to the individual states. That means that there are no "set" rules for scattering ashes at National Parks. Instead, each park has their own policy, based on the laws of their state.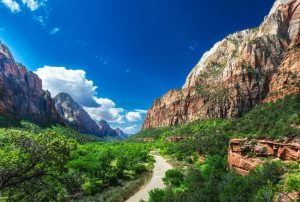 (Photo: Zion National Park, Utah)
However, there are some general guidelines to be aware of:
A special permit is often required
Many National Parks require that you state your intentions to scatter cremated remains. You do this by submitting an application for a "special use" permit. This permit gives you permission to scatter a loved one's remains at the park.
Each park will have their own paperwork to complete, so you must visit the website of your preferred park and fill out their permit request form. Allow at least 30 days for processing. You will receive the authorization permit in the mail once it has been approved.
Note: A few parks do not require a permit to scatter ashes. It will be clearly outlined on the park's website, if they do require a permit.
Keep the group small
Some National Parks put a limit on the number of people allowed to participate in the scattering ceremony. Make sure you've checked into the regulations for your preferred park. However, if you would like to have a larger gathering, some parks require an additional permit granting permission. Again, the park's website will outline all the requirements.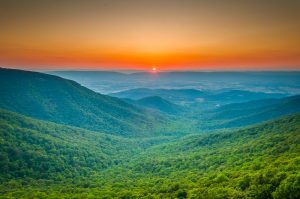 (Photo: Shenandoah National Park, Virginia)
Stay away from public use areas
When you choose the location for the scattering ceremony, most National Parks prefer that you find a quiet, secluded space to do so. This way, you have more privacy, but also, your gathering doesn't disrupt the natural flow of the park. Avoiding public use areas means that you should stay away from roads, walkways, trails, buildings, and parking areas.
Also, don't scatter in just one spot; spread the scattering out over a larger area. And stay at least 100 yards away from any waterways or creeks. Additionally, some parks will have extra requirements regarding the location. For example, Yellowstone does not allow scattering near thermal areas.
Leave no trace
As any avid outdoorsperson knows, it's important to the natural habitat that you "leave no trace" of your presence. The same holds true at National Parks. What does this mean for scattering? You cannot leave a marker of any kind to commemorate the event. However, you can pin the location on your phone using GPS, so that you always know your loved one's final resting place. Also, many National Parks keep a "Book of Memories," where you can record your loved one's name as an act of memorialization.
Do not bury ashes
Burial is not allowed at National Parks, so do not bury the cremated remains of a loved one.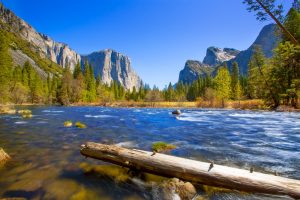 (Photo: Yosemite National Park, California)
Consider the weather conditions
Before settling on a date for a scattering ceremony, take weather conditions into account. Some parks may be closed for snow, flood, or other seasonal climate changes. If you need to make changes to your dates, contact the park directly.
What Type of Information Do They Request on the Permit Authorization Form?
Every park has their own application form, so the questions may vary from park to park. However, they will generally ask for:
Mailing address
Name of person whose ashes will be scattered
Preferred date, location, time
Number of participants
Also, some National Parks may require an application fee. If they do, it will be clearly outlined on their website. If you wish to do anything other than scatter ashes, you may need to apply for additional permits. For example, if you want to camp off the beaten path, you may need a wilderness camping permit. If you have larger plans than a scattering ceremony, you may need an additional permit. A park ranger can help you iron out the details.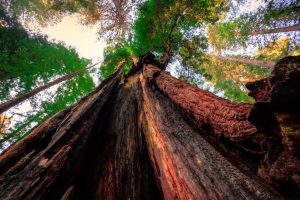 (Photo: Redwood National Park, California)
Do I Need to Carry the Permit with Me?
Yes, make sure you keep your permit with you. If a park ranger happens by and sees your scattering ceremony taking place, they may ask to see your permit. If you don't have it with you, you may have to pay a fine.
Can I Include a Service When I Scatter the Ashes?
Absolutely, you can put together a short ceremony in honor of your loved one. While you cannot set up a large-scale event, you can invite each person to say a few words. Or you can sing songs, pray, drink a special beverage, and so on. Just keep in mind that it should be simple, intimate, and leave no trace when the ceremony is complete.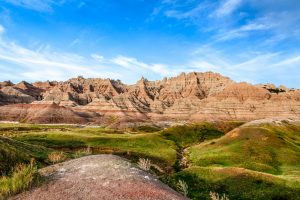 (Photo: Badlands National Park, South Dakota)
Where Can I Find Information About a Specific National Park?
To make planning a little easier for you, here's a list of all National Parks that allow scattering.
From A to Z: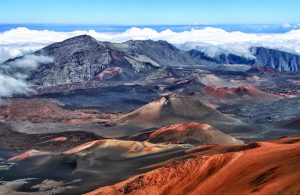 (Photo: Haleakala National Park, Hawaii)
Today, there are so many ways to honor a loved one's life in a meaningful and unique way. And a scattering ceremony at a U.S. National Park may feel like just the right thing to do. Hopefully, this complete guide gives you all the information you need to get started. However, if you have additional questions, you can either reach out to the park directly or speak to a trusted funeral professional. They can help you get all the answers you need!