Cremation may be on the rise, but that doesn't mean you can't plan a full service to celebrate a loved one's life with viewing and visitation. Many families assume that choosing cremation means sacrificing a viewing or having the body present at the funeral service. But that's where rental caskets come in!
Today, most funeral homes offer rental caskets, which allows you to select cremation and still have a full service with a loved one's body present. There's just one major difference. After the funeral service is complete, the casket will not be escorted to the cemetery. Instead, mourners will attend a gathering or reception, and the body will be prepared for cremation.
In this way, families can pair the healing power of saying goodbye in person with the cost-effectiveness of cremation. Thankfully, you don't have to give up the traditional elements when you prefer cremation over burial.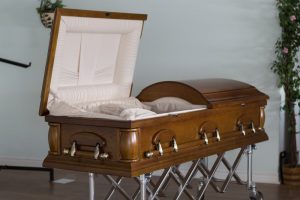 What else do you need to know about rental caskets? Let's review some important details to consider.
How is a rental casket different from a standard casket?
When looking at the rental casket, most people won't be able to tell that it's not a standard casket. However, the construction is a bit different. The foot panel swings out like a door, allowing an insert to be placed into or removed from the casket exterior. So, the deceased person is placed in a removable container (often made of wood or cardboard) and that box is gently slid into the rental casket. The removable insert comes with its own fabric liner, which is for one-time use, and it is hidden from view once inside the casket exterior.
So, the casket is re-used?
Yes and no; the exterior frame of the casket is re-used, but the removable insert is not. As mentioned above, at no point does the deceased person's body come in contact with the rental casket itself. The removable insert fully supports the body and the fabric liner within the insert is one-time use only. In this way, the rental casket is protected and preserved.
Additionally, the rental casket is professionally cleaned and sanitized after each use. While the deceased body never touches the rental casket, this extra level of cleanliness is taken to ensure the best possible experience for everyone.

What happens to the removable insert?
By law, when a body is cremated, it must be placed in a container of some sort (often made of wood or cardboard). The removable insert can perform both functions – both as the interior of the rental casket and the alternative container at the crematory.
Where can I get a rental casket?
If you're looking for ease and convenience, the funeral home is your best option. They will have rental caskets available, and there may even be options to choose from. It's possible to rent from a third-party business, but please note, you will be responsible for making sure the funeral home has access to it before the funeral.
What is the average cost of a rental casket?
It all depends on your area and the funeral home. To get a sense of costs, request a General Price List (GPL) from reputable funeral homes in your area. The GPL should list the cost of a rental casket and what that fee includes. Remember, you will pay for the removable insert/alternative container in addition to the rental casket.

Can I use a rental casket if I choose burial instead of cremation?
While rental caskets are most commonly used for funeral services before cremation, they can be used when burial is chosen. For example, you might want a ceremonial casket for the viewing, but then bury the deceased person in a much simpler casket. Speak with a funeral director about your options. Then, weigh the pros and cons of whether renting a casket is best for your needs.
What's next?
To learn more about rental caskets or the full service options available with cremation, contact a funeral home you trust.
Also, if you'd like more information what a General Price List is and what your rights are as a consumer, check out Know Your Rights: The FTC Funeral Rule. With this information, you can confidently interact with the funeral home and get your questions answered!