As the seasons change, you may see Halloween décor pop up around your neighborhood. Spider webs and tombstones, skeletons and caution tape, and all manner of ghouls and goblins begin to grace the streets in anticipation of the holiday.
But if you have experienced a sudden, tragic, or violent loss, the Halloween season can feel like navigating a minefield, especially if children are involved. What may have once been a fun, candy-filled holiday may now seem distorted, insensitive, and disturbing. Grotesquely exaggerated images of death seem to be around every corner. Symbols of death, such as cemeteries, become scenes for entertainment—making a mockery of death.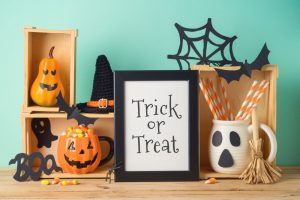 You may even feel betrayed by those around you. Your friends or family may need help understanding how hurtful their enthusiastic celebration of Halloween can be.
But by making a plan for the holiday, communicating with your family, and taking time to mourn in your own way, you can make your Halloween experience better. Below are a few tips for managing your grief during the Halloween season:
Decide What Feels Right
First and foremost, spend a few minutes deciding what you want Halloween to look like for you and your family this year. This is a time to do what's best for yourself and your family – not yield to the expectations of others. You can avoid that spooky house on the way to work by taking an alternate route. You can skip the store aisles displaying seasonal items. Make a plan for how – and to what degree – you will celebrate this year…if you choose to celebrate at all. Most of the time, anxiety comes when no plan is in place. To avoid unpleasant emotions, decide what feels appropriate for you and your family ahead of time.
Choose Alternate Halloween Activities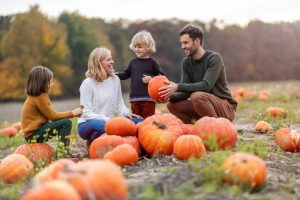 Rather than celebrate Halloween as you have in years past, you could choose other, more neutral fall activities, such as visiting a pumpkin patch or going on a hay ride. Or, choose lighthearted or funny costumes instead of scary ones. If you decide to trick or treat with kids, check with them to see if they are prepared to face some of the scary, gory costumes or yard decorations they may see. In addition, be sure you know what you are getting into when you go to a Halloween carnival or party. As a safer alternative, many churches offer family-friendly fall festivals or "trunk or treat" opportunities for children.
Mourn in Your Own Way
Mourning is a deeply personal journey; only you know how to mourn for yourself. You could light a candle in remembrance, decorate with fall leaves and gourds instead of skulls and cobwebs, or start a new tradition! Make caramel apples, watch It's the Great Pumpkin, Charlie Brown, or make some s'mores over a fire–maybe even spend time remembering what you loved most about the person who died and honoring their life.
Communicate with Others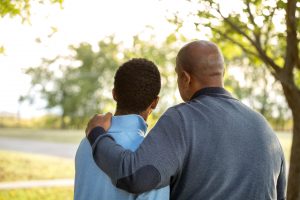 If you are having trouble with this holiday, be honest about how you feel with those around you. If your friends or family ask you to participate in something you are not quite ready for, let them know what you are going through. You can also share your feelings with a support group, online forum, or trusted counselor or friend. Sharing your feelings can help you process any emotions triggered by this season and help you move toward healing and reconciliation with the loss.
Try Not to Blame Others for Their Halloween Zeal
Although this time can be challenging, others haven't experienced what you have. Most people see Halloween as a chance to dress up and be someone else for a while. Try to understand that most people are unaware of what you're going through and that they aren't trying to be insensitive. Stick to your boundaries, communicate them to others, and explain your reasons if you feel comfortable.
As you navigate through Halloween, give yourself and those around you grace. If your feelings about Halloween have changed, that's okay – accept your emotions as valid and set up the boundaries that will help you grieve. Above all, give yourself time and space for healing, without rushing the process.