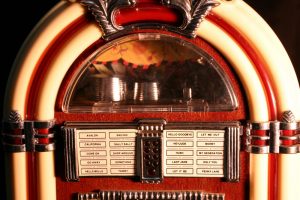 Did you know that you can use your loved one's favorite music to personalize their funeral? Music plays an important role in a funeral by helping mourners express emotions they may not be able to put into words. Personalized songs and music that was special to your loved one can help create a healing and meaningful funeral for your family and friends. Many people have a deep connection with the music they grew up with, which makes songs from their childhood a great choice for their memorial service. If your loved one grew up in the 1950s or just enjoyed the swinging, melodic sounds of the decade, here are a few songs that you could play at their funeral or celebration of life.
Beyond the Sea (Bobby Darin, 1959)
Somewhere beyond the sea
Somewhere waiting for me
My lover stands on golden sands
And watches the ships that go sailin'
While "Beyond the Sea" was first written in the 1940s, the song was popularized by Bobby Darin in 1959. This classic song beautifully captures the longing for a loved one and the hope for a meeting in the future. Plus, if your loved one was part of the Navy or loved sailing and the ocean, including this song at their celebration of life would be a wonderful personal touch.
They Can't Take That Away from Me (Ella Fitzgerald and Louis Armstrong, 1956)
The way you wear your hat
The way you sip your tea
The memory of all that
No, no, they can't take that away from me
Originally written in 1937, "They Can't Take That Away from Me" is even more beautiful when sung by Ella Fitzgerald and Louis Armstrong in this 1956 version of the song. When we lose a loved one, our relationship with them changes to one of memory. This song perfectly highlights how our loved ones live on in our memories and encourages us to cherish the small moments we shared with our loved ones.
Always (Ella Fitzgerald, 1958)
I'll be loving you always
With a love that's true alwaysWhen the things you've planned Need a helping hand I will understand always
"Always" was originally written in 1926, but Ella Fitzgerald's 1958 version of the song showcases both her voice and the lyrics beautifully. A song about commitment, loyalty, and neverending love, "Always" would make a wonderful addition to a funeral or celebration of life for a spouse or significant other.
Autumn Leaves (Edith Piaf, 1951)
Since you went away the days grow long
And soon I'll hear old winter's song
But I miss you most of all my darling
When autumn leaves start to fall
An elegant song full of passion, "Autumn Leaves (Les Feuilles Mortes)" was recorded by Edith Piaf in 1951. With lyrics in English and French, this song speaks of missing and longing for someone you are separated from. "Autumn Leaves" would make a lovely funeral song for a significant other.
Love Me Tender (Elvis Presley, 1956)
Love me tender
Love me true
All my dreams fulfilled
For my darlin' I love you
And I always will
Elvis Presley is one of the most well-known singers of all time, and "Love Me Tender" is one of his most iconic songs. The passionate lyrics speak of unending love and gratitude for the impact a loved one made on your life. This song could work well either as part of a service or as background music for a slideshow of photos of your loved one.
Thinking of You (Fats Domino, 1953)
Yes, I want you to know
That I need you so
You're on my mind
Everywhere I go
Recorded by Fats Domino in 1953, "Thinking of You" speaks about the memories that linger when we lose someone we love. When a loved one dies, anything can remind us of them. This song showcases the way we see our lost loved ones all around us, making it a great choice for a funeral or memorial service.
Unforgettable (Nat King Cole, 1952)
Unforgettable
That's what you are
Unforgettable
Though near or far
A slow, thoughtful song, "Unforgettable" was recorded by Nat King Cole in 1952. The people we love make an impact on our lives that we cannot forget, and these beautiful lyrics highlight how our loved ones leave their mark on our lives. The perfect song to honor any loved one, "Unforgettable" would be an excellent choice for a memorial service or celebration of life.
Raining in My Heart (Buddy Holly, 1959)
I tell my blues they mustn't show
But soon these tears are bound to flow
'Cause it's raining, raining in my heart
Released just after Buddy Holly's death in 1959, "Raining in My Heart" was originally recorded in October 1958. While the music is more cheerful than some songs on this list, the lyrics speak about the deep sadness we feel when we lose a loved one. A sweet reminder that it's okay to be sad, "Raining in My Heart" could make a unique addition to a funeral or celebration of life.
Because of You (Tony Bennett, 1951)
Because of you
My life is now worthwhile
And I can smile
Because of you
Originally written in 1940, "Because of You" became Tony Bennett's first big hit in 1951. The peaceful lyrics highlight the joy, love, and happiness that our loved ones bring to our lives, making this song perfect for honoring someone who positively impacted your life. "Because of You" would work especially well in a celebration of life or a slideshow.
Just a Closer Walk With Thee (Patsy Cline, 1959)
When my feeble life is o'er
Time for me will be no more
Guide me gently, safely o'er
To Thy kingdom's shore
While the origins of the original hymn are unclear, Patsy Cline's version of "Just a Closer Walk With Thee" was released in 1959. This traditional song speaks about growing stronger in faith and closer to Jesus daily. For a loved one who was devoted to their faith, "Just a Closer Walk With Thee" could pay homage to their strong faith and dedication to God.
Peace in the Valley (Red Foley, 1951)
There'll be no sadness
No sorrow
No trouble, I'll see
There will be peace in the valley for me
Another traditional Christian song, "Peace in the Valley" was originally written in 1939 under the full title "There'll Be Peace in the Valley for Me." While the song has been sung by many singers, including Elvis Presley, this version was recorded by Red Foley in 1951. A song about hope, Heaven, and peace after death, "Peace in the Valley" would be an excellent song to include in a religious funeral or celebration of life.
Songs from other decades
Other musical options for a meaningful funeral