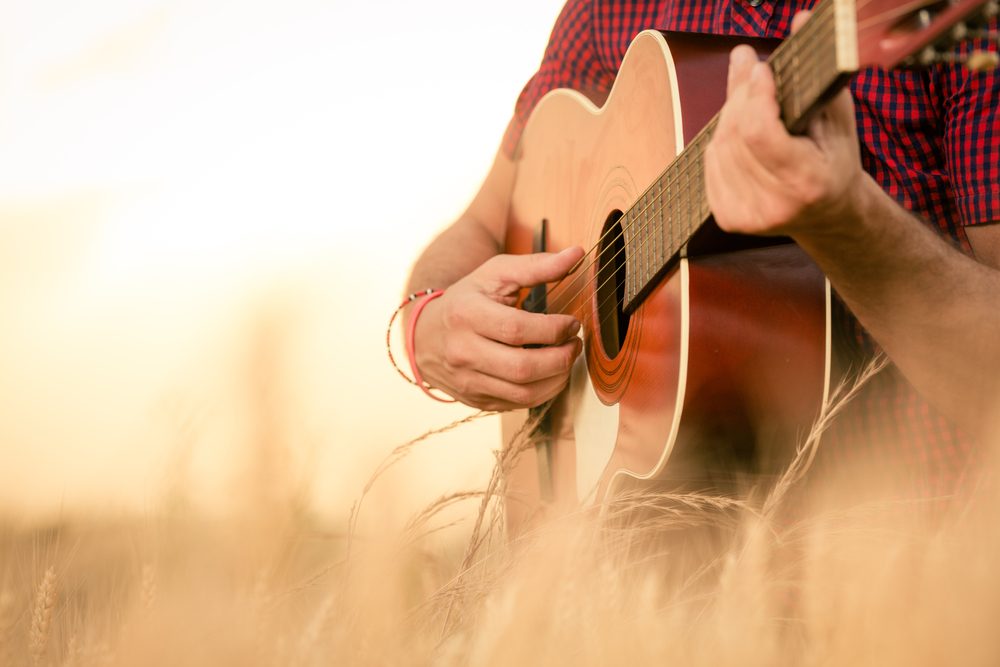 "A good country music song takes a page out of somebody's life and puts music to it." – Conway Twitty
According to well-known grief expert, counselor, and author Dr. Alan Wolfelt, music is an important element of a meaningful funeral because it "help[s] us access our feelings…think about our loss." Music is a window to the soul. We all know a song that particularly touched our heart, brought tears to our eyes or joy to our spirit. Music takes us to a place mere words never can. It can be an essential tool in our grief journeys.
Countless people across the world are country music fans, and they consider the genre a big part of their everyday life. For that reason, we have put together these top 12 country songs. Whether you need a grief playlist or are planning a funeral and need inspiration, this list is worth checking out. Of course, if you are planning a funeral for a loved one, the more connection you or your loved one has to a song, the better it will be for a celebration of life. But if you are looking for ideas, please review this list and see if any of these songs meet your needs.
12. I Hope You Dance (Lee Ann Womack)
I hope you never fear those mountains in the distance
Never settle  for the path of least resistance
I hope you dance
Over time, this would become Lee Ann Womack's signature song. It won the Country Music Association's and Academy of Country Music's awards for Song of the Year as well as a Grammy Award for Best Country Song of the Year. The song calls us to be active in the stories of our lives and to take the opportunities before us to find hope and new life.
11. Live Like You Were Dying (Tim McGraw)
I spoke sweeter and I gave forgiveness I'd been denyin'
And he said someday I hope you get the chance
To live like you were dyin'
Released in August 2004, this song went on to be the 2005 Grammy Award winner for Best Country Male Vocal Performance and the Best Country Vocal Performance. The original music video prominently featured McGraw's relationship with his father, who had died of brain cancer. No matter whether you are grieving or grieving and planning a funeral, this song is worth a look.
10. Temporary Home (Carrie Underwood)
This was just a stop on the way to where I'm going
I'm not afraid because I know
This was my temporary home
This lovely ballad was co-written by Carrie Underwood and inspired by her belief that Earth is our temporary home. One day, heaven awaits those who truly believe in God. This song is beautiful in its melody and message. When making selections for a celebration of life, choose music that would be meaningful to the lost loved one but also to those gathered to mourn. Music helps us realize and release our emotions, and for a funeral service to be a healing experience, mourners must be invited to express their grief.
9. If I Had Only Known (Reba McEntire)
So unaware I foolishly believed
That you would always be there
But then there came a day
And I turned my head and you slipped away
In this powerful song, the longing in the singer's voice draws the listener in as she reflects on all the things she would have done or said if only she'd known what was coming. Even if death is not a surprise to us, we may still feel a sense of shock or disbelief when it occurs. Perhaps, we even wish we'd done some things differently. This song perfectly illustrates our natural desire to turn back time and say things unsaid or do things undone.
8. There'll be You (Faith Hill)
In my heart
There will always be a place for you for all my life
I'll keep a part of you with me
And everywhere I am, there you'll be
Nominated for both an Academy Award and a Golden Globe Award for Best Original Song, this hit song dips and soars, inviting us to join in the emotional journey. Faith Hill's melodic tones perfectly express the deep feelings of gratitude we have toward those who give us strength, steadfastness, and love throughout our lives. The words "I'll keep a part of you with me" are perfect for those who are mourning, as we will always carry the memory of a lost loved one within us.
7. Just a Closer Walk With Thee (Patsy Cline)
When my feeble life is o'er
Time for me will be no more
Guide me gently, safely o'er
To Thy Kingdom's shore, to Thy shore

A beloved hymn with a long history, this Patsy Cline recording of "Just a Closer Walk With Thee" is beautiful and touching. The song is a statement and a prayer. It calls the listener to trust in God during times of grief and struggle. Though we may not understand why a death has occurred, this song gives hope that God is with us. Patsy Cline's rendition is dear to the hearts of many, and it provides an avenue for us to express our emotions.
6. Angels Among Us (Alabama)
Oh, I believe there are angels among us
Sent down to us from somewhere up above
If you are familiar with country music, you've likely heard of the band Alabama. They became known for their unique blend of country music and southern rock with elements of gospel and pop. To date, they are the most awarded band in country music history. This 1993 hit song is exceptionally versatile and has been used for many different types of events. It beautifully portrays the goodness in people and how every person can be an angel in disguise to someone around them.
5. Go Rest High on That Mountain (Vince Gill)
Oh, how we cried the day you left us
We gathered round your grave to grieve
Inspirational and emotional, this Grammy Award-winning song was originally written as a tribute to Vince Gill's brother, who passed away from a heart attack. Vince Gill would later state, "All I wanted to do was grieve for him and celebrate his life." The song talks about the pain we feel when lose someone we love but couples that pain with hope, reflecting on the joy that comes from being with God.
4. The Dance (Garth Brooks)
Our lives are better left to chance
I could have missed the pain
But I'd have had to miss the dance
Well known in country music circles, "The Dance" is one of the most beloved country songs. The song is soft and poignant throughout, beginning with a beautiful piano introduction. The lyrics are simple but relatable, exploring the relationship between pain and risk. When we love people, we are taking a risk because one day we will lose them. But if we turn away out of fear, then we miss the dance of life.
3. Daddy's Hands (Holly Dunn)
If I could do things over, I'd live my life again
and never take for granted the love in daddy's hands
Written as a Father's Day gift, "Daddy's Hands" became Holly Dunn's breakout song, and later, her signature hit. The lyrics are sweet and simple, beautifully portraying the love between a father and his child. With its open lyrics, either a son or daughter could use the song as the perfect tribute for a father or father figure.
2. One More Day (Diamond Rio)
I didn't ask for money
Or a mansion in Malibu
I simply asked for one more day with you

Following several tragic events that occurred in 2001 – namely 9/11, the Oklahoma State plane crash, and the death of Dale Earnhardt – "One More Day" became a song of mourning and healing. Diamond Rio drummer, Brian Prout, said that it was very special, knowing that the song had an "impact on someone's life and helped in a tough time of healing and hope." The desire for more time with our lost loved ones is universal. This song helps us touch on those emotions and express them in a healthy way.
1. When I Get Where I'm Going (Brad Paisley, featuring Dolly Parton)
But when I get where I'm going
And I see my maker's face
I'll stand forever in the light
Of his amazing grace
Featuring the vocal harmony of Dolly Parton, this inspirational song carries a two-fold focus. In part, the lyrics paint a picture of wonder and joy awaiting those who have left this earth and an exhortation to those still alive that they should rejoice that their loved one is in heaven. But on the other hand, the song also acknowledges the pain we experience when those we love are gone and the way that we miss them deeply. Bittersweet and beautiful, this song is well worth considering for a meaningful celebration of life.
To listen to the entire playlist, click here.