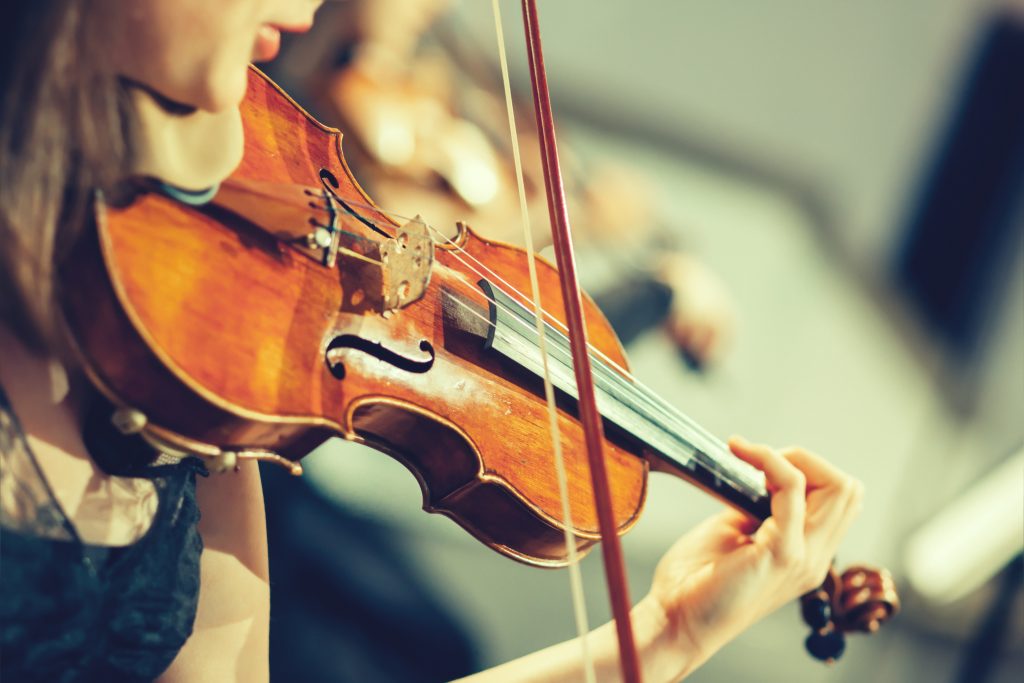 "Where words fail, music speaks." – Danish author Hans Christian Andersen
In our greatest times of pain and grief, we often don't have the words to describe the intense emotions we feel. This feeling is a common experience for those of us who have recently suffered a great loss. That's where the power of music can help provide needed comfort.
For many of us, music has the unique ability to give us words when grief and agony have left us silent. A beautiful melody or lyric can perfectly capture what we're feeling and speak to us deeply and emotionally.
Renowned grief expert, counselor, and author Dr. Alan Wolfelt teaches that music is an important element of a healing and meaningful funeral. Music can set the tone of a funeral, bring our emotions to the forefront, and allow us to grieve with others in mourning, which is essential to why we have funerals.
There are many musical genres that can help bring healing during a funeral. Many people find classical music moving and there are many songs and arrangements to support this belief. If classical music sounds like the best way to honor your loved one and bring healing to those in pain, here are a few suggestions that could help.
1. Con Te Partirò (Time to Say Goodbye)
While other songs on this list also have a connection to death, Con Te Partirò passionately and unapologetically embraces the emotions we often feel during a loss. This arrangement focuses on the separation we feel when a death occurs. It also highlights that the pain of our grief will not be at the forefront of our lives forever.
Originally written by Francesco Sartori and Lucio Quarantotto in 1995, Con Te Partirò is a beloved favorite for many classical music fans and has become a common piece at funerals. Its messages of finding beauty beyond our pain and remembering that our loved one's memory will always be with us ring true for many.
2. Adagio for Strings
Samuel Barber is widely regarded as the most talented American composer of his generation, and Adagio for Strings is one of the reasons. Played on a full orchestra of strings, the song's somber and solemn melody has been known to help those in grief. It paints an emotional backdrop for pain with hauntingly beautiful rises and falls. Barber's classic is slow at times, but it picks up steam at the 4:40 mark and crescendos for a breathtakingly moving mountain top at 5:25.
Adagio for Strings played at the funerals of Albert Einstein and Princess Grace of Monaco. The song was broadcast after the passing of Princess Diana and U.S. Presidents John F. Kennedy and Franklin D. Roosevelt.
3. Irish Tune from County Derry
If a string orchestra isn't to your liking, the brass sections of Irish Tune from County Derry might be more appropriate. The arrangement's soft opening is followed by a melodic resonance that brings the song to life. Composed by Percy Grainger, the piece focuses on powerful, positive notes that can help us remember the good memories of our loved ones and what made them special. Plus, the flute solo (2:15) is especially beautiful and leads way into the powerful melody (3:11).
The character of Irish Tune from County Derry makes this an excellent choice to play at a loved one's funeral.
4. Ave Maria
A timeless classic that's recognized and loved by countless people, Ave Maria might be the most popular classical song for funerals. Many believe it's the perfect piece for honoring loved ones, as it's an adaptation of the traditional Roman Catholic prayer. Whether played or sung, this song can help bring our emotions to the surface, so that we may acknowledge that a death has occurred and begin our path toward healing.
Many artists have performed the song over the years, with Luigi Vena's performance at President Kennedy's funeral remaining one of the most memorable.
5. Liebesträume No. 3 (Dreams of Love)
Piano and classical music go hand in hand for most of us. It only makes sense to include multiple wonderfully crafted piano arrangements that speak to the soul. Franz Liszt published three piano works in 1850, with Liebesträume No. 3 being his most popular. The piece was inspired by the poem O Lieb, so lang du lieben kannst (O love, so long as you can), which focuses on the importance of love, the pain of loss, and the promise to make every moment matter.
Throughout the song, we hear the clash between love and death (2:20). These shifts were Liszt's desire, as he strived to write a piece as heart-wrenching as it is troubled.
6. Mad World
So many talented artists have covered Mad World since its release more than 40 years ago. While Dennis Korn's piano version might be one of the newest, it certainly is moving and beautiful. Originally written by Roland Orzabal of the British band Tears of Fears, Mad World was born from Orzabal's time of songwriting, in which he watched everyday people live their lives outside his window. Orzabal felt disconnected, alone, and out of place in the world because of this – feelings we may have experienced after the death of a loved one.
Dennis Korn's piano cover brings new life to the song. His version captures what it means to feel grief, as the base notes and the higher pitch melody serve as an example of the variety of emotions we may feel. The song's familiarity, simplicity, and powerful emotions make it an ideal choice for any type of funeral.
7. Canon in D
It's true, Johann Pachelbel's classic is traditionally a staple at weddings, but its powerful builds and remarkable harmonies also make it an impactful piece to celebrate the life of a loved one. The song's quick tempo and moving melody can help us reflect on the positive memories we have of the deceased, rather than the pain we feel from their absence.
Cannon in D can also be performed by either a large or small number of musicians. Arrangements of this classical music piece exist for classical string quartets, piano, two musicians, and more. The song is also familiar to many, making it impactful to your audience and easy to use for funerals.
8. Adagietto (Symphony No. 5)
Another full orchestral piece, Gustav Mahler's Adagietto (Symphony No. 5) brings inspirations of peace and sadness. Mahler wrote this eerily captivating arrangement soon after he fell seriously ill and had to resign as conductor of the Vienna Philharmonic. It's possible his failing health inspired him to write such a moving piece that features incredible builds at 3:10 and 10:15.
The lightness of the harp in the beginning and the whimsical movement of the second act also make this a piece that can help us find peace, if only for a brief moment.
9. Lux Aeterna (Nimrod)
Performed by British vocal ensemble VOCES8, this a cappella version is sung with warmth and beauty. It's hard to believe there are no instruments involved. The voices that echo Edward Elgar's glorious swelling melody have been heard at weddings, funerals, and even events for the British monarchy. As one of 14 pieces Elgar dedicated to cherished friends and family, Elgar wrote Lux Aeterna (Nimrod) for a devoted friend who stood by the composer during his struggles with depression.
The rise and fall of the voices signify our daily struggle with grief and the varying emotions we may feel. The song builds to an overwhelmingly well-balanced and breathtaking sound (2:15) that is difficult to describe and best left to enjoy.
10. Air on a G String
No list of classical music, no matter the circumstances, would be complete without Johann Sebastian Bach. Based off Bach's No. 3 in D Major, August Wilhelmj composed this arrangement in 1871 and offers a gentle pulse that truly is the key to the piece's popularity. The song's moving violin section, steady base, and perfectly accompanied organ create unmatched emotion.
Not too long or too short, this piece is great for honoring life and bringing healing.
11. Candle in the Wind
Similar to Mad World, the final entry on this list is widely popular. It has even been covered numerous times since its release by Elton John in 1973. The original may not fall into the traditional classical genre, but when played on piano alone, it's heartbreakingly beautiful. Elton John wrote the song in honor of Marilyn Monroe's death, then played at Princess Diana's funeral in 1997. Both versions are classics and focus on the pressures we put on ourselves that might make us feel inadequate.
With powerful lyrics, Candle in the Wind is equally as moving in its original version or as instrumental only. There are several elements of the song that make it a perfect choice for a funeral.
Other musical options for a meaningful funeral