Funeral and memorial services are about remembering and cherishing a loved one's memory and honoring their life. Dr. Alan Wolfelt, a nationally recognized grief expert, author, and counselor, often says, "When words are inadequate, have a ceremony." Meaningful ceremonies are reflective of the life that has been lived. They spark memories, help honor a legacy, and bring to mind the good times that were shared. Using photos is one important way we can personalize a funeral and reflect on a life well-lived.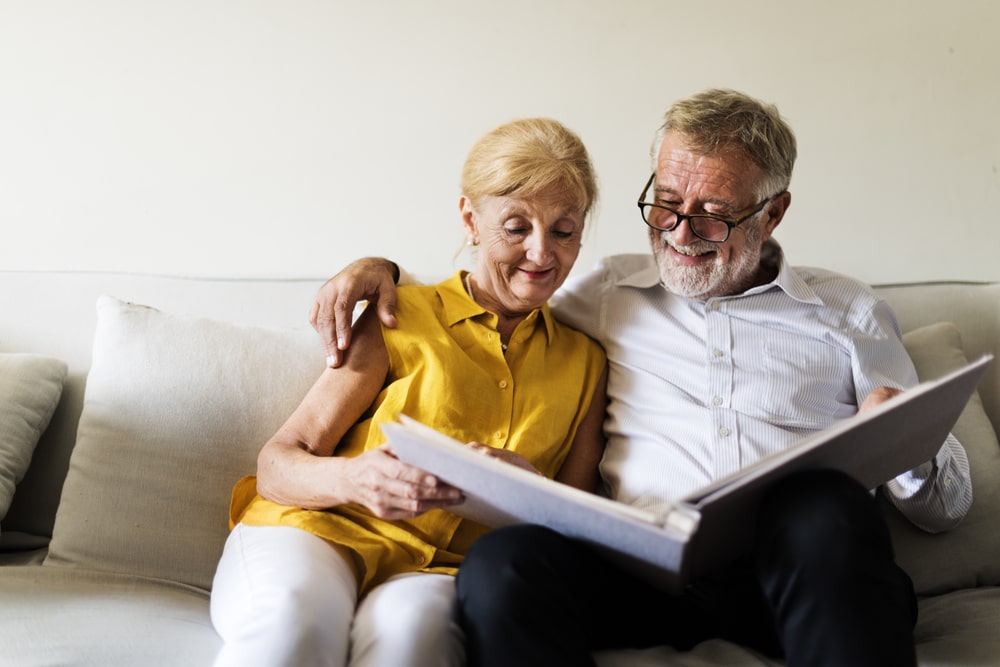 They say a picture is worth a thousand words, and that is certainly true when you are sharing photos of a loved one's life. Let's talk about how you can use photos to create a tribute that will bring meaning, hope, peace, and comfort to those who are hurting.
10 Ways to Use Photos to Personalize a Physical Service
Photos are unique to a person, a time, a place, a memory. That's why they are a perfect way to personalize a funeral or memorial service. Here are a few ideas to get you started.

1. Add Photos to the Order of Service
For most funeral or memorial services, you will receive an "Order of Service" program. This pamphlet usually outlines the order of events that will occur at the service, including speakers, special songs, opportunities to share memories, etc. The Order of Service is a good place to incorporate photos. You can be as creative as you'd like, including your favorite photos or simply ones that capture your loved one's personality.
2. Make a Collage or Timeline
A photo collage or timeline allows you to tell your loved one's life story. The big moments, the small ones, the ones that mean the most to you and your family. You can highlight weddings, births, vacations, milestones, hobbies, childhood photos, and so much more. Then, as people view the collage or timeline at the service, conversations will spark. Memories will become fresh. Hearts will be comforted.

3. Put Together a Memorial Photo Album
Sometimes there's something special about a tangible object. Just like some people prefer physical books over electronic books, there are those who prefer the sturdy presence of a photo album to any amount of digital storage. If you are one of these people, you might consider putting together a memorial photo album or bringing your old family photo albums to the gathering or visitation. Holding the book and flipping through the pages often evokes a strong feeling of connection. By allowing friends, family, and guests to look through the album, you create an opportunity to remember special times and learn new things about the one you love.
4. Create a Memory Board
Similar to a photo collage, a memory board intentionally leaves space open for family, friends, and other guests to add photos of their own or to write personalized messages on the board. By inviting people to participate, you do two things. First, you allow others to mourn; that is, put their grief into action. Dr. Wolfelt tells us that, "Grief is what you think and feel on the inside, and mourning is when you express that grief outside of yourself. Mourning is grief inside out. [It] is showing and doing." Secondly, by inviting others to add their own thoughts and memories, you create a lovely keepsake that gives a full, vibrant picture of your loved one's life.

5. Use Photos to Personalize the Gathering/Reception
Many families decide to include a gathering or reception following the funeral or memorial service. Doing this allows family, friends, and others an opportunity to share memories and offer support to one another. The gathering/reception is also a great time to add personal touches to the funeral experience. You might string a clothesline in one area of the room and invite friends and family to a bring a photo to hang. Or, you could use photos to decorate the tables – as centerpieces or even as a table runner. Alternatively, if you are having an outdoor event, you could decorate a tree with photos of your loved one and add mason jars with candles to add softness to the display.
6. Make a Tribute Video
With a tribute video, you can use photos, audio clips, video clips, favorite quotes, and so much more to create a truly personal account of your loved one's life. A tribute video adds a meaningful element to the service, allows guests to reflect on their memories, comforts family and friends, evokes laughter and tears, and can be a special keepsake that can be watched for years to come.

7. Invite Mourners to Bring a Favorite Photo
Another option you might consider is inviting mourners to bring a favorite photo of your loved one. You could ask people to write a favorite memory on the back and leave the photo with the family as an encouragement. Alternatively, you could create a collective collage. By requesting that everyone bring a 4×6 photo, you can create pre-made spaces where people can add their photos to the collage. Or, you could simply ask mourners to look at the photo and remember your loved one as the eulogy is spoken. A visual reminder – especially one that means something – will help each person connect with their own feelings and begin the grief journey on the right foot.
8. Make a Memory Wreath
Another way to use photos in a unique way is to create a memory wreath. This special wreath will not only serve as a special focal point for any gathering or reception, it can also be re-used in your home afterward. Photos are a great way to remember our loved ones. They connect us to the past; they remind us of the stories of our lives. Sometimes, they even express emotions better than words.

9. Ask Someone to Take Photos at the Funeral
While it may sound odd, you might consider asking someone to take photos at the funeral or memorial. Not necessarily of your loved one – but of the events and the people who have gathered. Photography is about capturing the important moments in life, and the passing of a loved one is significant. Photos taken at any point of the service (funeral, reception, graveside, etc.) will all show a variety of emotions – sadness at the loss, joy at seeing living loved ones, happiness at sharing cherished memories. Who knows, you may find that one of these photos becomes a cherished favorite.
10. Print Remembrance Tokens
Finally, for many of us, specific items have great value and significance to our memory. "I bought this painting when we went to France," or "This scarf always reminds me of my grandmother." Photos can do the same. Consider printing out some of your favorite photos and giving them to guests as a remembrance token. You might add a quote, scripture verse, or poem on the back. As each person takes a photo, they have a physical reminder of your loved one, something they can hold onto and contemplate on as they walk through their grief journey.