As veterans, you gave a part of your life in committed service to our nation, and we offer you a sincere and heartfelt thank you. But did you know that you can also do a great service and offer a gift of love to your family by planning ahead?
While no one likes to think about their own death, the fact remains that, one day, your family will need to make dozens of hard decisions to arrange your final life tribute. They will want to gather together, offer support to one another, remember you, and honor your legacy, including your noble service in the Armed Forces. Even if you don't want a big fuss, the fact still remains: someone will be responsible for making funeral plans for you. Why couldn't that person be you?

Why Plan Ahead?
There are so many reasons to plan ahead, but here are the top five.
1. Planning ahead can actually save your family money.
When most people are called upon to plan a funeral, they are doing so for the first time in their lives. Because of this, surviving family members don't know very much about how to keep costs from ballooning and often end up emotionally overspending because they want "only the best" for you. However, if you put your plan in writing and your family knows exactly what your wishes are, they are generally able to save considerably by avoiding unnecessary spending.
2. Planning ahead allows your family to spend more time together.
At the time of loss, the last thing family members want to do is spend several hours at a funeral home making arrangements. With a plan in place that outlines your wishes for a final tribute, your family is able to spend more time together, offering comfort, support, and love to one another at a time when they need it most.

3. Planning ahead helps avoid arguments.
We are emotional beings, some more than others. The loss of a loved one often brings out those emotions, and if a family is torn about which options to choose, feelings tend to run high. Even when a general consensus is reached, family members can sometimes continue to feel anxiety, doubt, and regret about the decisions that were made and how they were made. However, when family members know exactly what you want, they experience greater peace knowing that they are honoring your final wishes.
4. Planning ahead gives you time to create a meaningful and healing final tribute.
The more personal the service is, the more meaningful it will be. By planning ahead, you give yourself and your family time to plan and prepare a service (burial or cremation) that truly reflects your life and meets the emotional needs of your family. It will also give you time to mull over other questions, like whether you want to include military honors at the funeral or if you'd like to ask any fellow veterans to participate.

5. Planning ahead brings peace of mind even before you die.
Have you ever completed a big project and just felt a weight lift off your shoulders? That's what it feels like when you finally take that step and plan ahead for your funeral wishes. Not only does it bring you peace of mind, but it can also bring comfort to family members who know that they won't have to face those difficult decisions on one of the worst days of their lives.
Also, by planning ahead, you can ensure that you know exactly what you qualify for regarding veterans' burial benefits. With these benefits provided by the Veterans Administration, you can further alleviate the financial burden left for your family.
What Are Your Burial Benefits?
While the Veterans Administration (VA) does not pay for everything, they do offer assistance that will help you take care of your family and create a healing and meaningful funeral ceremony.
Eligibility
The first step is to determine if you are eligible to receive the burial benefits available. The main thing to remember is that those who received honorable or general discharges qualify while those who received dishonorable discharges do not qualify. If you have questions about your eligibility, contact your local VA office.
Dependents and survivors of veterans may also be eligible for VA benefits. This means that your current spouse and any dependents are also eligible to receive certain burial benefits because of your service.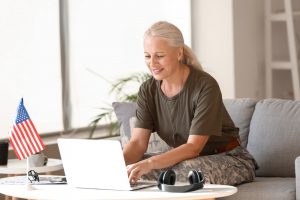 Now, let's review the five main burial benefits available to you:
Burial Allowances
Generally speaking, when a veteran's cause of death is not service-related, the reimbursement is described as two payments:
A burial and funeral expense allowance (associated with funeral or memorial options)
A plot interment allowance (associated with burial costs)
In a nutshell, the burial allowance is a designated dollar amount that the VA pays toward a veteran's funeral. To receive this benefit, your family must apply following your death (or the death of a spouse or dependent child). After the application and receipts have been submitted, the VA will reimburse a designated amount to your family's account. Due to rising costs each year, the VA increases the burial and plot allowance amounts annually.
For more detailed information on eligibility, click here.

Cemetery Interment Benefits
Choosing a final resting place is a very personal decision, and it's always good to know your options. In the VA's eyes, there are three types of cemeteries: national, state veterans, and private.
National Cemetery 
In addition to burial allowances, the VA also offers burial (cremated or full body) in a national cemetery through the National Cemetery Administration (www.cem.va.gov). This benefit includes a plot, opening and closing of the grave, perpetual care, and a government-issued headstone. While placement is based on availability, you, your spouse, and any dependent children can be buried in a national cemetery. Of course, as with anything, there are certain rules and guidelines.
There is no charge for a burial plot in a national cemetery. Because of this, the plot allowance is not available for burial in a national cemetery. In some cases, the VA may even pay for the cost of transporting a deceased veteran to the national cemetery. Speak to a funeral director or your regional VA office to get more details.
State Veterans Cemetery 
A second option for burial is a state veterans cemetery. These cemeteries are facilitated by the individual states, not by the National Cemetery Administration, so regulations will vary. Because of this, you or a funeral professional will need to contact your nearby state veterans cemetery to see if there are any fees associated with burial there and if they allow dependents to be buried on the grounds. However, you will be eligible for a government-issued headstone as well as the plot allowance.
Private Cemeteries 
If you choose burial in a private cemetery, then you will be responsible for cemetery costs on your own. However, you will be eligible for the plot allowance to assist with the total cost. Again, you are still eligible to receive a government-issued headstone or medallion. Spouses and dependents buried in a private cemetery receive no benefits.

Government-Issued Headstones or Medallions
The VA will provide a government headstone or medallion to mark the grave of an eligible veteran. If you want, you can even request a government headstone for eligible dependents if they are not buried in a private cemetery. The headstone can be placed in any cemetery around the world, but the grave must be unmarked.
Additionally, if you prefer burial in a private cemetery, you can request to receive a medallion. Medallions are durable and affix easily to any headstone. They offer a way to identify a veteran who elects to use a more personalized grave marker.
Click here to view the headstone and medallion options available through the National Cemetery Administration.
Burial Flags
Because the American flag is a symbol of your service and sacrifice, its presence is a tribute to your life. Due to its importance, the VA provides an American flag to drape the casket or urn, and after the funeral service, the flag is given to the next of kin. Only one flag is issued per veteran.

Presidential Memorial Certificates
Finally, the VA offers a Presidential Memorial Certificate (PMC), which is an engraved certificate, signed by the current President, that is given to honor your memory and your service.
So, these five elements make up the basic lineup of burial benefits that are available to an eligible veteran. There are many details to the whole process. That's why it's important to work with a funeral professional and your local VA office. They will ensure you have all the answers you need.
What's Next?
Now you know why planning ahead is beneficial and which burial benefits are available to you. The next step is to reach out to a local funeral home and get started! Do a little research and find a funeral home with a good reputation. To help you, take a moment to read 10 Characteristics to Look for in a Funeral Home.
Once you've selected a funeral home, their staff will walk you through the rest of the process. They will make sure you don't miss any details. With all the decisions made, you and your family will have peace of mind, knowing that everything has been taken care of.