When planning a funeral service, the best way to create a truly unique, one-of-a-kind experience is to add personalized touches throughout the events. That might mean selecting special music, choosing a theme (like a certain color or pop culture reference), allowing family and friends to share memories, including hobby items or collectibles – there are so many options. But did you know that you can also personalize the casket itself? Let's talk about 6 ways you can do it!

1. Choose a Color or Theme
If you have a specific vision for the perfect casket, all you need to do is speak with your chosen funeral home about your ideas. Whether you'd like a specific color (like purple, pink, or even zebra) or you'd like a specific theme (like space, John Deere tractors, or unicorns), the funeral director can work with you to ensure that your preferences are accommodated. You can also request custom head panel or lining fabric to complete the personalization.
2. Commission a Specific Shape
While the four-sided casket is the most popular choice in the United States, you can commission a specific shape. For instance, if you'd like a casket shaped like an M&M candy, a Viking longship, or even a pineapple, you can request it. Of course, it will take extra time and money to create a custom casket. With that in mind, speak with your funeral director to discuss the best way to move forward with a custom shape and how that may affect the timing of funeral services.

3. Add Etchings or Photos
Another option for personalizing a casket is to add etchings or photos to it. While photos are somewhat self-explanatory (you choose the ones you want to include), etchings may require a little explanation. With etchings, you can include any type of symbol you want – religious symbols, pop culture references, crests, anything you wish. You will work closely with the funeral director as you create the perfect design for your custom casket.
4. Place Special Items Inside the Casket
If you are looking for a way to personalize the casket without putting in a custom order, you can! Because the casket often has space along the sides or at the foot, it's possible to bury a loved one with meaningful possessions. For example, you can include photos, special mementos, jewelry, stuffed animals, and other small items. If the person was a firefighter, you could include their helmet or a flag from their station. If they were a veteran, you can include any medals or special honors they received.

5. Drape a Casket Blanket or Flag
When the casket is closed, you can always drape a casket blanket or flag over it to add personalization. A casket blanket is a beautifully designed floral arrangement that looks like a blanket and drapes over the casket. They are available in a variety of colors and create a truly stunning addition to the service. However, you can also use other items to drape over the casket. For example, you can drape a flag of any kind – an American flag, a sports team flag, an organization, etc. Also, if you'd like, you can also drape an actual blanket, like a quilt or throw. Whatever means the most to you and your family.
6. Select a Floral Accent
It's quite common to accent a casket with a floral arrangement, but there are actually quite a few options to choose from. The casket blanket is one option, but you can also choose a casket spray, a floral garland, or a floral scarf.
Casket spray – most common; lays on top of the casket
Floral garland – flowers that are displayed at the hinge of an open casket; often constructed by binding together the arrangement with wire or tape until it is somewhat rope-like in appearance
Casket scarf – an arrangement that drapes over the top of the casket; displayed with fabric resembling a scarf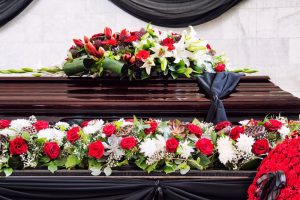 As you can see, there are quite a few options for personalizing a casket. All you have to do is determine which ones make the most sense for your loved one and fit into your budget. At a time of loss, many families end up "emotionally overspending," so before you commit to anything, speak with your funeral director about pricing and options.
Also, a quick note, it is possible to plan ahead for funeral wishes, so if you do want something specific for your casket, you can write those specifications down and set aside funds to pay for it. Set up a consultation with a funeral professional to learn more about how planning ahead for funeral wishes not only gives your family peace of mind, but it also gives you the opportunity to make your personal wishes known!