Have you heard about the growing use of death doulas for the terminally ill? No? Then you're in luck. We're going to take a look at what death doulas are, how they help individuals and families, why it's a growing practice, and more. Let's get started!

What is a death doula?
You may have heard of a birth doula – a woman who walks alongside a new mother from before birth, through birth, and then following the birth. Well, a death doula does much the same, but for death rather than birth.
Also called death midwives, end-of-life coaches, or even transition guides, these doulas take a holistic approach. They are trained to focus on the physical, emotional, psychological, and spiritual aspects of death, leaving medical to healthcare professionals. Their overall goal is to normalize the experience of death for everyone involved, taking it from an uncomfortable experience to one filled with rich, sweet memories.

So, what do death doulas actually do?
Though many death doulas are medically trained, their focus is not medical care. Instead, they work in partnership with hospice palliative care to ensure that your loved one's whole person is taken care of on the path toward death. One of their main concerns is to help the terminally ill person have a good death, whatever that may look like. For some, it may mean being surrounded by family; for others, it might mean watching a favorite movie and then sitting quietly with their most treasured people.
In addition to helping people take a measure of control over death by defining what a good death looks like to them, a few other things that death doulas help their clients and families with are:
Suggesting ideas for optimal comfort, including giving massages, holding hands, etc.
Providing spiritual, emotional, or social support to both the dying and their family
Simply being with the dying person, whether to listen, stay silent, read a book aloud, watch tv, whatever they want
Educating both the terminally ill person and their family about the process of dying so that they know what's coming and what to expect
Working on legacy projects with the dying, like writing letters to loved ones, taking family photos, creating gifts, writing down life experiences, etc.
Offering consistent presence during the final days, easing any fear or anxiety that the dying person may feel and allowing family to take much-needed breaks
Encouraging the dying to take care of estate planning, such as completing a will
If the family wants, a doula can help plan a funeral or memorial service or provide grief support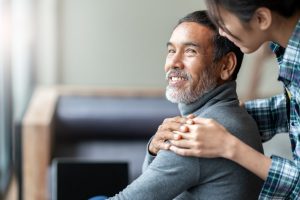 Because death doulas often take a holistic approach, they will be familiar with home vigils, wakes, and even natural or green burial options, if these are of interest to you (they will work in tandem with a local funeral home). However, the doula will not pressure you into any decisions; their job is to find out what the dying person wants and advocate for that.
Why is this practice growing?
In many ways, death has become sterile and impersonal, often occurring in hospitals or nursing home care facilities. As a culture, we have come to avoid death. This tendency can cause those who are dying to feel more alone and isolated. With the aging Baby Boomer generation, it's likely that there will be a rise in the need for alternative care services that may allow more people to stay at home during the end-of-life phase or provide care at hospice or other care facilities. Death doulas may be an answer to fill in the gap needed for end-of-life care. A hospice nurse can only come at certain times to assist while a death doula can be much more available to assist the family, even after the death has occurred.

How do you hire a death doula?
It's an individualized process. Some doulas have private practices while others work in connection with hospices, hospitals, or other community organizations. But no matter how you find a doula, you should sit down and interview them first. After all, if the doula is going to walk through weeks or even months with you and be privy to intimate details of your family's life, you'll want to choose someone you feel comfortable with, who honors your personal beliefs, and is trustworthy.
Before securing the services of a doula, you can review what types of assistance you want (which days/hours of the week, cooking meals, sitting with the dying person, working on legacy projects, etc.). Most often the doula will tailor their work to suit your needs and preferences. So, go over everything before you sign anything. Also, a conversation about compensation will need to occur, with the doula letting you know their current rates. Each doula sets their own rates, so you will simply need to ask.

What kind of training do doulas have?
While the practice is currently unregulated, there are associations that offer certifications. A few learning institutions that offer training are the International End of Life Doula Association (INELDA), Larner College of Medicine at the University of Vermont, International Doulagivers Institute, and Lifespan Doula Association (LDA). While the programs at each institution vary, most death doulas receive 6-9 months of training before they receive a certification.
Janie Rakow, the president of INELDA, says this about the role of a death doula: "We journey with the person who's dying and their family to help them navigate through the whole end-of-life process. Although hospice is wonderful in the death and dying field, they don't have the hours and hours and hours that the doulas have to really, deeply, get into this work. It's kind of an adjunct to hospice where we're there for them [the dying] to provide emotional, spiritual, and physical support."

Is a death doula right for your family?
It's entirely up to you. Look at your support network. Decide if your friends and neighbors will help you through a loved one's terminal illness. Ask yourself questions: Do I want help? Do I want help from someone I know? Or, would I like to bring in someone with specialized training? Do I have the funds to pay for a doula's services? Also, talk with the person who is dying and get their thoughts. Do they want someone who will offer consistent support? Do they have projects they want to complete?
Whatever you decide is best for your family is the right thing to do. Right now, most families don't utilize the services of a death doula. However, if this sounds like just what your family needs, start putting out feelers in your community. You may find just the right person to journey with you.