When visiting a cemetery, it can seem like your options are limited when choosing a memorial marker, but that's not true. There are many options for creating a personalized monument that will identify a loved one's final resting place for generations to come. Today, let's talk about why memorial markers matter and 6 different ways you can personalize a monument to create something unique and special.

What is a Memorial Marker?
A memorial marker goes by many names. Tombstone. Headstone. Grave marker. Monument. It can get confusing quickly, so we will use "memorial marker" and "monument" for our purposes today.
If you've ever visited a cemetery, then you've seen memorial markers. It could be a plaque, an upright headstone, a footstone, or even occasionally a ledger stone, to name a few options. Typically, a memorial marker lists the deceased person's name and life dates. Anything beyond that is customized.
Why is a Memorial Marker Important?
As human beings, when we lose someone we love, our feeling of connection to them continues, even though they are no longer with us physically. It is this connection that contributes to our feelings of loss, that makes it so difficult to process death and move toward healing and reconciliation.
Not only do memorial markers highlight the value of remembering people by name – names are so important – they also give us a place to go to feel close to the person who has died.
To learn more about why memorial markers and a final resting place can be valuable to families, especially when feelings of grief arise or anniversaries come around, check out 5 Reasons to Establish a Permanent Memorial.

6 Ways to Personalize a Memorial Marker
Now, let's dive into 6 ways you can personalize a memorial marker to reflect a person's unique life, personality, and preferences.
To help you decide what's right for your needs and situation, consider which of these categories you want to focus on (or if you'd like to create a mix):
Choose elements that reflect personality (kind, giving, friendly)
Focus on family attributes (father, grandmother, uncle, sister)
Highlight achievements, hobbies, interests, or long-term commitments
With these categories in mind, let's talk about personalizing a memorial marker.
1. Create a Personalized Inscription
Also called an epitaph, you can include a short message on the monument that has meaning and significance to everyone – family, friends, and the person who has died.
For instance, you could include:
A focus on family ("Beloved mother, sister, and friend")
A poignant sentiment ("Forever in our hearts")
A spiritual quote or verse for a person of faith
Pop culture references to music, movies, etc. ("May the Force be with you" or similar)
For a real-life example, one beloved grandmother included her famous fudge recipe on her memorial marker so that everyone who came by could make and enjoy it as much as she did. The possibilities are quite literally endless with how you can personalize the inscription.

2. Choose a Color
Next, let's talk about color. Depending on what material you select, you can choose a color to personalize a memorial marker. Granite is the most popular monument material because it retains its shine for many years. It is available in black, blue, gray, pink, red, and more. If your loved one had an affinity for a certain color, you can ask your monument representative what your color options are.
Bronze is another common material used for memorial markers. Keep in mind, bronze will develop patina over time, resulting in a color change ranging from antiqued green to light or dark brown. Some people love this color change, and one more famous example of patina is the greenish hue that we now see on the Statue of Liberty.
3. Select a Shape
While most people choose a rectangular, square, or pointed top monument, memorial markers aren't one-size-fits-all. Custom monuments come in many forms—from benches to unique shapes like hearts, books, arches, or even guitars.
If you have a specific vision for what shape you'd like the memorial marker to be, talk to the monument designers about the possibilities. They will discuss the cost and what's possible when working with stone.

4. Add an Image or Symbol
If you'd like, you can request that the memorial marker feature a specific image or symbol. From animals and military insignia to pop culture references or nature scenes, anything is possible. The key is to pick something that is meaningful.
If you aren't sure what kind of image to request, ask yourself, "Does my loved one have a well-known hobby? A pet who is always nearby? A deep faith? A favorite instrument or talent or sports team?" These types of questions will help you narrow down the options.
Monument companies will work with you on the design and help you create something that will bring your creative vision to life as you honor your loved one's legacy.
5. Include a Photo
Similar to an image or symbol, you could add a photo (or photos) to personalize a memorial marker. Depending on your wishes, the photo could be etched (by hand or with a laser), or if you prefer to use a color photo, the image can be created in ceramic or porcelain and then permanently affixed to the marker in whatever size you want.
If you decide to include a photo, select one of your favorites and go over your wishes with the monument designer so they can create exactly what you want.

6. Incorporate a QR Code
A new trend in memorial marker personalization is the QR code. The code is affixed to the marker, and when mourners or visitors scan the code, they view a website dedicated to that person's life and legacy.
Imagine if you could scan a QR code for someone who died 100 years ago. It would be both amazing and interesting to read more about who they were and what their life was like.
Of course, this personalization option takes a little additional work on your part (you have to create a website), but it may be a good option for remembering and honoring your loved one's life.
Do What's Best for Your Family
The best thing about this whole discussion? There's no right or wrong. If something traditional is right and good for your needs, do that. If a photo with inscription is best, do that. Would a book top with a literary quote be meaningful? Do that. It's entirely up to you.
One final note as you consider the possibilities, remember to ask the cemetery representative if they have any specific regulations. Some cemeteries place firm restrictions on monument color and material.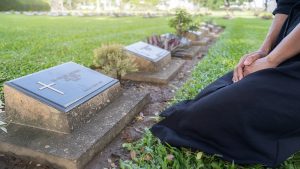 Now, take some time to brainstorm. Talk to a funeral home or monument company to learn what the options are. Then, start creating a vision for a personalized memorial marker that makes the most sense for your family, your needs, and your loved one.
For more helpful information, make sure to read Selecting and Installing a Grave Marker.