Sending someone a sympathy card is a thoughtful way to show your support and let the bereaved know that you are thinking of them. But what should you write in a sympathy card? It can be difficult to know what to write to someone who has lost a loved one, but sharing a thoughtful message is a good way to encourage the bereaved.
To help you express your condolences in a thoughtful and meaningful way, we've put together some ideas for what to write in a sympathy card. Your relationship with both the deceased and the person who is grieving will affect how long or short your note is, so just use these ideas as a starting point.
Here are 5 ideas for what you can write in your sympathy card: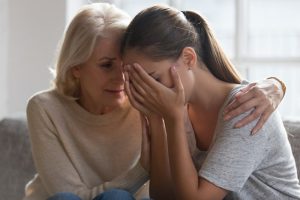 Express your condolences
Often the first step in writing a sympathy note is expressing your condolences. This can be as simple as writing "I'm sorry for your loss" or "Please accept my condolences on the loss of ____." Focus on offering words of comfort and support, like "I'm here for you if you need to talk" or "You're not alone in this. I'll be with you every step of the way."
Keep in mind that sometimes it is better to say nothing at all than to say something that might upset or offend the bereaved person. If you had a strained relationship with the deceased, it is perfectly acceptable to simply express your condolences to the family without further comment. More neutral statements like "I am so sorry for your loss" or "My deepest sympathies go out to you and your family during this difficult time" can be a good way to express your sympathy for the family's grief without being dishonest about your feelings.
Don't shy away from using "death" or "died" in your condolences. While substitutions like "passed away" or "didn't make it" may feel softer and more considerate, acknowledging someone's death is an important part of the grieving process. As long as your tone is gentle, using the words "death," "died," or "dead" is acceptable.
Examples:
I'm so sorry for your loss.
My deepest sympathies/thoughts and prayers go out to you and your family during this difficult time.
I will miss ____ very much.
I'm thinking of you in this difficult time.
You're not alone in this. I'll be with you every step of the way.

Share fond memories and appreciation of the deceased
If you were close to the deceased, you can also share fond memories or express your appreciation for them in your sympathy card. Reading about your gratitude for the deceased can help the grieving person feel connected to their loved one and may bring some comfort during this difficult time. As you share stories, be sincere – if you don't have positive memories of the deceased, it would be better to simply offer your condolences.
When sharing memories, highlight the deceased's qualities or mention how they made a positive impact on your life. You can also share a story that illustrates how much the person meant to you. As you share your memories, keep it relatively short and make sure that your focus remains on the deceased and not on yourself.
Examples:
I'm so grateful I had the chance to know ____ and his/her kindness and compassion.
____ was always so kind and helped me through [situation].
I always smile when I remember [memory].

Offer to help
If you want to offer help to the grieving person in your sympathy card, make sure you are truly willing and able to follow through. It can be difficult for someone who is grieving to ask for help, so offering your assistance can be a nice gesture. But only offer help if you are actually willing to commit to it – otherwise, your offer may do more harm than good.
When you offer to help, do so in concrete ways. Saying "Let me know if you need anything" is vague and noncommittal, and many people won't feel comfortable asking for help. Think of a specific way you could help, like cooking a meal, doing yard work, providing child or pet care, or listening and talking with them.
Examples:
If you need someone to look after ____, I'm always available on the weekends.
I know I'm far away, but if you want to talk, I'm just a phone call away OR my number is ____.
I'd love to bring over a meal for you and your family. Just let me know what day would be best for you!
I know you have a lot going on, so let me know if you need someone to pick up groceries or help with chores. I'd be happy to help.

Avoid making comparisons or minimizing the loss
When you are writing to a grieving person, it is important to avoid making comparisons or talking about yourself. This can be difficult, as you may want to share your own experiences to empathize with the person you are writing to. However, writing too much about yourself can take away from the focus on the deceased and make the grieving person feel like you are dismissing their grief. Remember that everyone grieves differently and what worked for you may not work for them.
You should also avoid saying anything that might place blame on the deceased or trivialize the feelings of the bereaved. For example, don't say "I'm sorry for your loss, but at least he lived a long life." In general, it's a good idea to avoid adding a statement that starts with "but" after offering your condolences.
Also, try not to use clichés and platitudes such as "Everything happens for a reason" or "They're in a better place now." These phrases may be well-intentioned, but they often fall flat and can even come across as insensitive.
Phrases to avoid:
I know how you feel.
When I lost ____, I…
Everything happens for a reason.
It'll get better.
They're in a better place now.
It was his/her time.

Add a personal sign-off
When you sign your card, you may or may not choose to include a short sign-off. If you do include one, keep it personal and informal. While the classic "Sincerely" may seem like a good option, it could seem overly formal. Use a sign-off that expresses your sadness and your support for your friend.
Examples:
With love,
Praying for you,
With sympathy,
Thinking of you,
Sharing your sadness,
Here for you,
To make your sympathy note personal, consider which of these ideas you should include. It's okay if you can't think of a story to share or don't know how you could help the bereaved. If you are struggling with what to say, keep things short and simple. A short, kind message means more than one that rambles or focuses on the writer. Focus on being sincere and kind, and your grieving friend will appreciate your thoughtfulness.