"To be good, and do good, is the whole duty of man comprised in a few words." – Abigail Adams
As we mark the Fourth of July and the independence brought about after the Revolutionary War, it's impossible not to remember the historical men and women who played key roles in the creation of our nation. Men like George Washington, Benjamin Franklin, and Thomas Jefferson are easily remembered, but what about the women – the ladies of liberty – who also deserve our remembrance and respect? Today, let's talk about Abigail Adams and the indelible mark she left upon our nation.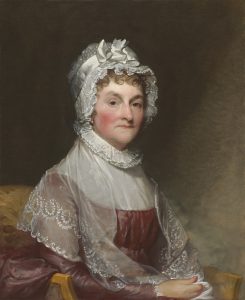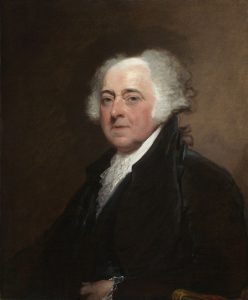 (Portraits of Abigail and John Adams later in life)
Biography
Early years
Born in Weymouth, Massachusetts, on November 11, 1744, Abigail was the second child of Reverend William and Elizabeth Quincy Smith. Like many women of her time, Abigail was educated at home, and she showed a great voracity for learning and reading. Even beyond lessons from her tutor, she took it upon herself to read the books in her father's library and became one of the most well-read women in the 18th century.
Through a mutual friend, Abigail met John Adams in 1759, and soon, they began a courtship. Even with a nine-year age difference, the two were a match in both heart and mind. They married in 1764 and had their first child within a year. Throughout the early years of their marriage, the Adamses focused on John's career as a lawyer, caring for the family farm, and raising four children.
Rise to prominence
In 1770, John's name rose to greater prominence when he elected to defend the nine British soldiers on trial for the Boston Massacre. With greater and greater responsibilities before him, John was away from home more and more. This led to a series of famous letters between he and Abigail. In fact, over the course of their marriage, the two exchanged more than 1,100 letters! And in each one, John sought his wife's guidance, wisdom, and opinions, which she freely gave.
When you compare John's political stance with the opinions expressed by his wife in their extensive letters, it's clear to see that he greatly valued her mind and her thoughts. In many ways, it was their partnership that helped form a new nation.
John Adams would go on to serve as a Continental Congress representative, a U.S. Minister, Vice President, and President of the United States. Through each season of life, Abigail stood staunchly by his side. When she stayed at their home in Massachusetts, she educated the children and kept the farm prosperous. Additionally, when possible, she shared information about military confrontations around Boston. She and her son, John Quincy, witnessed the Battle of Bunker Hill from a hill near their farm.

Becoming First Lady
After the conclusion of the war, Abigail joined her husband in France and Great Britain where he served as a U.S. Minister. Upon their return to the United States, John was elected Vice President under George Washington (1789-1797) and then President (1797-1801). After one term, John lost the presidency to Thomas Jefferson. He and Abigail retired to their home in Massachusetts. After 54 years and four children together, Abigail died of typhoid fever on October 28, 1818. At her death, her husband stated, "I wish I could lay down beside her and die, too."
With her quick wit, strong opinions, and fierce love of freedom and independence, Abigail Adams is considered the strongest female voice in the American Revolution. We will never know what would have happened had she not expressed her opinions and partnered – shoulder to shoulder – with her husband, and we don't want to know.
Key Contributions
Through her extensive letters with husband John Adams, we have a clear view of what life looked like for Revolutionary Era women. Abigail is most known for her strong and firm opinions on the:
Abolition of slavery
Rights of women, especially education
Importance of independence and representation
Additionally, she was also a pivotal presence in her son John Quincy Adams' political career. Though she did not live to see him elected the 6th president of the United States, her influence and wisdom played a large role in his success.
Though she herself refused to publish her personal correspondence, her grandson Charles Francis Adams arranged for their release. By doing so, he forever preserved her unique experience and perspective on American life and democracy.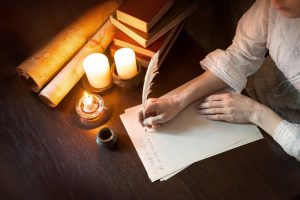 Interesting Facts
Abigail was both the wife (John Adams – 2nd) and the mother (John Quincy Adams – 6th) of U.S. Presidents. The only other woman to hold this distinction is Barbara Bush.
Often unappreciated by her critics, scathingly called "Mrs. President" due to the amount of influence she had with her husband
The first Second Lady of the United States (wife of the first Vice President)
The first First Lady to live in what would become the White House
Had a total of six children, but two daughters died in infancy
President Harry S. Truman had a high opinion of her, and stated, "She would have been a better President than her husband."
Became close friends with Martha Washington, George Washington's wife
Missed her husband's inauguration to care for his dying mother
The Importance of Legacy and Remembrance
As you can see, Abigail Adams led a noteworthy life, though she may not have said so herself. She was a wise and loving wife. A devoted mother. A staunch feminist. A bold abolitionist. A tireless letter writer and communicator. A woman with deep thoughts and strong ideals. She left a clear legacy, both to her children and to the fledgling nation she helped found.
As we remember Abigail Adams and the events that made her life both ordinary and extraordinary, take a moment to think about your own life. Are you leaving a legacy that you and your family can be proud of? Have you shared what's most important with those you care about?
With our legacies, we contribute to the future. What we do matters. While most of us will never be famous or well-known, that's not the point of a legacy. Instead, think of legacy as your opportunity to take your family and the next generation to a level you can only imagine. Just like Abigail did!