Some things are universal, across every culture and background. Having an emotional connection between memory and food is one of those things. As human beings, we connect with others through food. Shared meals, holiday traditions, beloved family recipes, and special treats all strengthen bonds and bring families together over the years. That's one reason why baking can be a meaningful (and tasty) way to remember a loved one. Let's look at a few other reasons why baking can help you grieve and honor a loved one's memory.

Baking unlocks memories
According to scientific research, of the six senses, the one most connected to memory is the sense of smell. So, when you bake Grandma's famous Christmas cookies or Dad's favorite casserole, the smells are going to unlock cherished memories and bring you comfort.
Baking is therapeutic
After the loss of a loved one, you may feel like your life is spinning and you've lost control. For some people, loss of control can increase feelings of anxiety. Because baking is predictable – certain ingredients mixed together create a delectable treat – it can bring a sense of peace and calm. You can't control every factor of your life right now, but you can control the outcome of Aunt Susan's tried-and-true banana-nut bread.

Baking reduces stress
Similarly, baking can reduce your stress levels, too. The repetition of steps can calm you down. And the smells bring comfort and relaxation. Plus, knowing that your efforts will result in something delightful to eat (or share with others) brings a sense of accomplishment. And if you are feeling particularly stressed, you can take it out on the bread dough you're kneading!
Baking provides creative opportunities to honor loved ones
While you may follow a specific recipe, baking also gives you room to express a certain amount of creativity. If you want to honor a loved one's memory, you could make cupcakes in their favorite color or flavor. Or, you could decorate them with a special theme, like butterflies, sports team colors, or fishing. Alternatively, you can mix-and-match. Perhaps you prefer buttercream frosting, but your grandmother just loved chocolate ganache. Make your favorite cake and ice it with chocolate ganache in her memory.

Baking minimizes the fear of forgetting a loved one
Have you ever feared that you might forget a loved one's face, their voice, their smell? By actively engaging with the things they loved – like their favorite baked goods – you can keep that memory alive. Not only will the sweet smells activate your memory, so will the look, taste, and feel of whatever you make. Together, your senses will help you travel back in time and keep your loved one's memory alive.
Baking brings a sense of closeness to your loved one
There will be times when you desperately miss your lost loved one. In those times, you can remember them through baking their favorite things. If it's the holidays, bring out Mom's family-famous reindeer cookies. If it's her birthday, bake her favorite cake. As you enjoy each fragrant bite, take time to reflect on your memories and cherish the time you had together.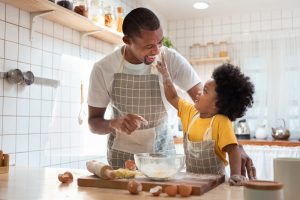 Baking brings people together
Most of the time, baked goods are meant to be shared. Because of this, baked goods are an excellent birthday or holiday gift, especially when they have special meaning. So, you might choose to bake your loved one's favorite pumpkin bread to share with family or friends, and when you do, you might say, "This was my son's favorite." As you invite others into your grief journey, you allow them to come alongside you to offer support and love. We need both when we're grieving the death of someone dearly loved.
However, Don't Stress About It
Maybe baking sounds like a good idea, but you aren't so sure about putting it into practice.
Just remember:
Keep It Simple
If you want to bake something special in memory of your loved one, keep it simple. If it's the holidays and you decide you want to bake ALL of the family Christmas cookies, that can get overwhelming fast. Instead, choose one or two that mean the most. The more complicated you make it, the less likely you are to actually do it.

If Baking Isn't Your Thing, That's Just Fine
And let's be honest, not everyone enjoys baking. If that's you, don't worry. There are other ways to use food to honor and remember a loved one. Pick up their favorite store-bought pastries. Get a meal at their favorite restaurant. Order their signature drink at the coffee shop. You can still benefit from the smell, taste, and feel of meaningful foods if you didn't make them yourself.
No matter what works best for you and your family, food is closely tied to our memories of the people we love. As you mourn the loss of someone you love, rest on your precious memories and allow them to help you grieve.