The Christmas season can be especially difficult for those who are grieving. Many Christmas songs are lighthearted, happy, and discuss themes of romantic love, family, or joyfulness. But maybe you don't feel very happy this Christmas…maybe this is the hardest Christmas you've ever faced. For that reason, we've compiled this list of songs. This Christmas Playlist is meant to help you  grieve during the Christmas season. Just because the culture says you should be light and joyful doesn't mean you have to put on a cheerful face and pretend you aren't hurting. Be where you are, but also try to look for ways to enjoy Christmas on your own terms and in your own way.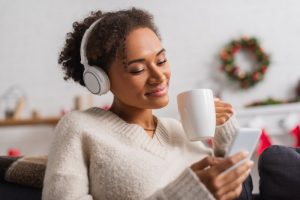 Most of us enjoy music. It helps us get in touch with our emotions. Music can bring us great joy, motivate us, challenge us, and bring tears to our eyes. This Christmas season, don't be afraid to listen to music that helps you embrace your sadness. Dr. Alan Wolfelt, nationally-renowned grief expert, reminds us, "As you approach the holidays, remember: grief is both a necessity and a privilege. It comes as a result of giving and receiving love. Don't let anyone take your grief away. Love yourself. Be patient with yourself. And allow yourself to be surrounded by loving, caring people."
The songs included in this Christmas Playlist are diverse. Some are meant to help you embrace your sadness, some are meant to remind you of the good things still in your life, and some are meant to help you embrace the meaning of Christmas and the joys of your former Christmases. The list is not comprehensive – feel free to add songs that speak to your heart personally and remove songs that aren't meaningful for you.
This Christmas is yours. Honestly consider what you truly need. Then, do what is best for you, unapologetically.
Have Yourself a Merry Little Christmas (Sam Smith)
Faithful friends who are dear to us
Gather near to us once more
First published in 1943, this song brought great comfort to many American soldiers who spent Christmas overseas on the battlefield. The song's slow tempo and heartfelt words convey a sense of nostalgia. The listener is encouraged to remember past Christmases and look forward to future ones, but it does not negate the difficulty of the present Christmas.
Silent Night (Bing Crosby)
Silent night, holy night, wondrous star, lend thy light;
With the angels let us sing,
Alleluia to our King.
Silent Night is one of the most popular Christmas carols of all time and has been translated into over 300 languages. The song is familiar, comforting, and most importantly, calls us to look beyond our circumstances and remember why we have the season of Christmas.
Do You Hear What I Hear? (Carrie Underwood)
The Child, the Child, sleeping in the night
He will bring us goodness and light
Originally released just after Thanksgiving in 1962, this song was written as a response to the Cuban Missile Crisis. Tension spread across the United States, and many had mixed emotions during the Christmas season. Of all the lines, the ones that bring the most comfort are, "Pray for peace, people everywhere! Listen to what I say, the Child, the Child sleeping in the night, He will bring us goodness and light." May you receive peace, goodness, and light this Christmas season.
And on this day we hope for
What we still can't see
First released on Josh Groban's Christmas album, Noel, the lyrics do not carry a heavy Christmas theme. Instead, they focus on the fact that, even though you may be grieving, there is so much to be thankful for. Sit and let the soothing music flow over you and ponder what you can be thankful for during this time of sadness.
Where Are You, Christmas? (Faith Hill)
My world is changing
I'm rearranging
Does that mean Christmas changes too
This song tackles the ever-changing aspects of life, and as the world changes, so does the way we celebrate the holidays. As you deal with loss (no matter what kind of loss it may be), you must find your "new normal" and what life is going to look like for you now.
My Grown-up Christmas List (Kelly Clarkson)
But heaven only knows
That packages and bows
Can never heal
A hurting human soul
At its heart, this song is about the wish deep within us that the difficult things in life would disappear. As children, we asked our parents and Santa Claus for bikes, dolls, games, and candy, but as grown-ups, we see the pain in the world and ask for very different things. This song perfectly expresses the desire that every person would receive peace, hope, and love.
I Pray on Christmas (Harry Connick, Jr.)
I pray on Christmas
That God will lead the way
And I pray on Christmas
He'll get me through another day
This jazz-inspired Christmas song from Harry Connick Jr. incorporates elements of gospel music. In his crooning style, Harry conveys the message that God will hear us, be with us, and get us through Christmas day. While still expressing the need to lean on others during hard times, the song is uplifting and soulful.
Merry Christmas, Darling (The Carpenters)
But I can dream and in my dreams
I'm Christmas-ing with you
Released in 1970 by brother-sister duo, The Carpenters, the lyrics were originally written in 1946, and then, put to music by Richard Carpenter. While the lyrics were written with deployed soldiers in mind, the words apply to anyone who is missing a loved one during the Christmas season. As you grieve this season, it's okay to miss your loved one and to wish that they were still near.
I wish I had a river I could skate away on
I wish I had a river so long I would teach my feet to fly
This song is real. In the opening lyrics, it reveals that Christmas time is coming, but all she really wants to do is skate away from her troubles and her grief. If you are grieving this Christmas, you may feel this way, too.
Allow the music to flow over you and bring your grief to the surface. Christmas won't be the same this year. And it's okay to be sad about it. Accept your emotions as they come and allow the music to give them a voice. This exercise will be one more step toward healing and figuring out what life looks like now.