When we lose a loved one, it's often difficult to think about parting with their belongings. After all, objects hold memories, stories, and special meaning. While it's important to sort through your loved one's possessions and thoughtfully decide what to keep, what to donate, and what to trash, you might also consider making memorial keepsakes from their clothing.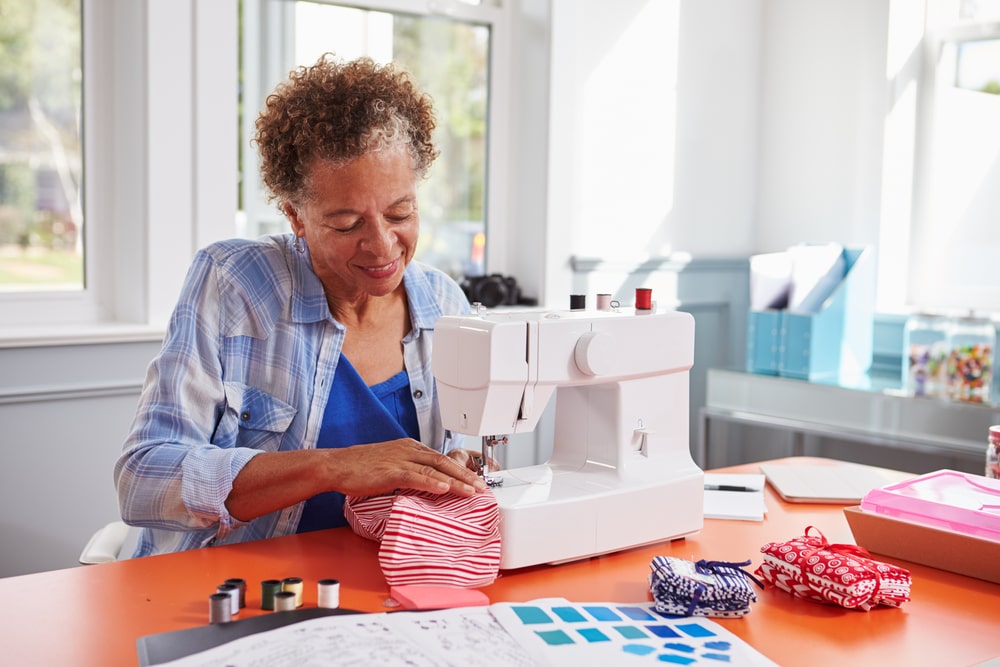 A memorial keepsake may be part of a healthy grief journey for you. A way to honor your grief through creative expression. The keepsake may be long lasting, or it may have a shorter term of use. It may be something you keep for yourself or share with others who are grieving or had a relationship with the person who is gone. The choice is entirely up to you and your wishes.
Creating Memorial Keepsakes from Clothing
Most of our loved ones had multiple changes of clothing so that means you have a lot of material to work with as you create (or commission) memorial keepsakes. Because there's so much fabric, you could have one keepsake for yourself and an entirely different kind for a relative. This diversity is helpful because you and your family members may value different things. So, let's get started and discuss some of the options available as you consider whether or not to create a meaningful keepsake from a loved one's clothing.

Quilt
You can make a beautiful and unique quilt using a loved one's clothing. You might use smaller pieces and go for a patchwork look. Or, you can use t-shirts to create a quilt that reflects your loved one's unique style. The style and design are entirely up to you, but just imagine curling up under the quilt on the cold nights and feeling surrounded by love. If you don't have the skills necessary to make the quilt yourself, there are many websites and services available to commission an expert to create the keepsake for you.

Memory Bear
While many memory animals are bears, you can pick any animal you like. Essentially, using a loved one's shirt, you make the casing of the animal and then stuff it. If you aren't comfortable with your level of skill, find a YouTube tutorial, ask a friend who sews to help you, or commission an expert to make it for you. Memory stuffed animals are especially helpful for children and can remain special for years to come.
Ornaments
For those who like to collect Christmas ornaments or call Christmas their favorite holiday, you might consider using fabric from a loved one's clothing to make ornaments. There are so many ways to do this that all you need to do is pick your favorite and go for it. You could do a folded fabric ornament, a no-sew "quilted" ornament, a Christmas tree ornament, and so much more. Then, every year as you decorate your tree, you will have an ornament to represent the person you love.

Table Runner
If you want to create multiple pieces, a table runner might be an excellent choice for the extra scrap pieces of fabric. You could use neckties or even dresses. Then, when you have a family dinner or your loved one's birthday comes around, you can pull out your memorial table runner and honor their memory even as you make new ones. If you prefer a table topper, that would work perfectly, too!

Placemats and Napkins
Similar to the table runner, you could also make placemats and napkins. Whether you use strips of leftover fabric or devote particular articles of clothing to the project, both placemats and napkins are a beautiful way to re-use clothing in a meaningful way. This way, every time you use them, your loved one's memory lives on. You could even create a tradition that you tell a story about your loved one's life every time you bring them out. If you like this idea, go online, find a pattern that appeals to you, and get started!
Keychains
As with all of these projects, the end product is entirely up to you. If you choose to make keychains or even key fobs, you can select the style and design to suit your tastes or the amount of fabric you have available. Keychains are small and make an excellent, easy-to-keep-track-of keepsake that you could share with the entire family.

Pillowcases
Whether you choose to make pillowcases for sleeping or for decoration, this project will allow you to make some beautiful creations that will bring peace on the hard days. For many of us, there's something comforting about hugging a pillow tight. In those moments when you miss your loved one most, grab a memorial pillow and hug it close, taking time to dwell on your memories and keep your loved one's memory alive.

Baby Clothes
A practical option for re-using a loved one's clothing is to create baby clothes with them. Whether the clothes are for your own child or to give to a shelter or a family in need, there's something special about knowing that your loved one's clothing will shelter and warm a young, new life. Though your loved one's life has come to an end, they can still make a difference in the lives of future generations.
Scarves and Other Apparel
Another idea for creating memorial keepsakes from a loved one's clothing is to make scarves or other apparel (like jewelry). Every time you wear the scarf, you can feel close to your loved one, almost like they are wrapping you in their love. There are many simple ways to create scarves, jewelry, and other items, so do a little digging and find what works best for you.

Aprons and Other Kitchen Accessories
If your loved one was a whiz in the kitchen, then making aprons or other kitchen items (like potholders or oven mitts) might be a good option for you. Then, you can either keep them or share them with family. Either way, any time you use these practical items, you can take a moment to remember your loved one. You might even choose to wear your memorial apron when cooking your loved one's favorite dishes or during the holidays, just to feel that extra sense of connection.
All of these projects (and any others you think of) will take time and commitment, but really, they can be as simple or complex as you like. Find the patterns and ideas that work best for you. And remember, if you simply aren't comfortable with your level of skill, either ask a sewing friend for help or seek out a professional. So, rather than donating or simply throwing out a lost loved one's clothes, consider whether they can do some good for the future. As memorial keepsakes, they just might help you as you continue to grieve and find a way to move forward.